Promotional Products
Read more +
One of the best ways to keep customers coming back is to say thanks. To draw in new customers, you have to help them know who you are and what you do. That's why promotional products play such an essential role in your company's marketing efforts.
Take a new product or service, for example: A well–designed, affordable promotional item can be a great way for you to let the public know about your news, generate excitement, and get shares and likes. For that, and so many other promotional materials, Quill has what you need.
Start with writing instruments. They never go out of style—or need—and they're an affordable way to get your name, logo, and website into the public eye. With Quill's options, you can pick your style—whether you prefer ballpoint or retractable—color, and price, from pencils to promotional pens. Simple tech items are also welcome and appealing for promotional products. Quill offers a range of helpful pieces, including always–needed USB drives, slim-style calculators, and even iPad cases.
How about promotional gifts? They're a great way to recognize clients at the end of the year, or during special sales or anniversaries your company may have. And you can find nearly everything, from coolers and food (because everyone loves a snack now and then) to calendars (a year–long reminder of your company).
For trade shows and other events, we've got materials to help with your messaging, too. Lanyards, notebooks, and totes are great, affordable promotional giveaways. And discount trophies can be a fun item at shows and events or even just within your company to recognize employees.
Put your promotional items to work with reliable, affordable options from your one-stop shop—Quill.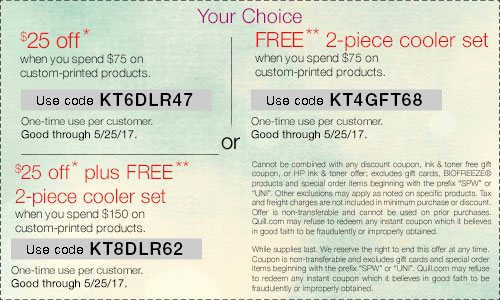 Use Code KT6DLR47
One-time use per customer.
Good through 5/25/17.
View disclaimer
Use Code KT4GFT68
One-time use per customer.
Good through 5/25/17.
Use Code KT8DLR62
One-time use per customer.
Good through 5/25/17.

---
---