3M™ Framed Privacy Filter for 22" Widescreen Monitor (16:10)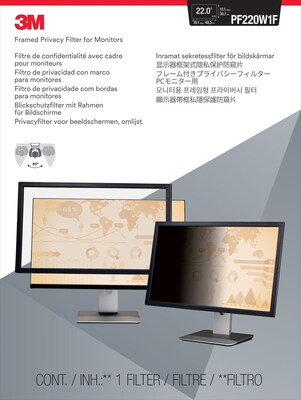 Not sure if this is the right filter for your screen? Click here to use our finder tool to ensure a proper fit.
Description
3M privacy and protection products work simply and beautifully on most of today's devices to help protect your screens, and help keep the information displayed on them private.
Keep your computer display safe from prying eyes using this 3M computer screen filter. Designed to fit 21 to 22-inch widescreen LCD displays, this computer screen filter also helps prevent distracting glare and reflections, helping you get more done. This filter increases the brightness and sharpness of onscreen images better than standard blackout privacy filters, allowing you to protect your confidential data without compromising the quality of your work. This high quality filter is built in the USA and comes with a one-year warranty.MEASURING FOR YOUR PRIVACY SCREEN & PROTECTORS:
Measure from the upper left corner diagonally down to the lower right corner. Make sure you measure the Viewable Area Only. For a proper fit, do NOT include the monitor or laptop frame or casing in your measurement. Also, note if your screen is in Standard (Ratio 4:3 +/-) or Widescreen (Ratio 16:9 +/-)format .
Framed widescreen privacy filter fits screens measuring up to 22"

Offers the best level of clarity in 3M Privacy Filters for monitors

19-1/8" x 12-1/8"

Hanger Arms and Command® Strips

Limited 1-year warranty

Microlouver technology delivers world-class effective "black out" privacy from side views outside the 60-degree viewing angle

On average, 25% more clarity than standard 3M™ Black Privacy Filters

Easy to remove for collaboration, sharing or to clean as needed

Great for high-resolution monitors

Provides the highest contrast of 3M™ Privacy Filters for monitors, creates an excellent viewing experience with whiter whites and blacker blacks

Helps reduce reflections so you see your screen with a beautiful high-contrast, high-resolution quality you expect

Gives screens a layer of added protection from dust and scratches

Reduces 35% of blue light transmission from the display

Attaches with Command® Strips or hanger arms for framed mounting

100% hand inspected for quality assurance
Useful for computer work in high traffic areas, this wide screen computer screen filter blocks visibility for anyone not directly in front of the LCD monitor it covers. Keep your work to yourself, and your data out of sight.

Protect Personal and Sensitive Information
Keep information secure, effortlessly while you work. This 3m computer screen filter is an unobtrusive means of keeping confidential data accessible to the person who needs it, while keeping it obscured from those who do not. Public work stations with customer interaction can take down information without broadcasting it to the whole room, and computers in shared office space can keep to themselves.

Cut Down on Distractions
Use this computer screen filter to deflect passers by. Focus on the task at hand without concerns about the security of the data on screen and without inviting stray attention from co-workers. Even in low traffic areas, or home use, privacy limits interference and promotes focus.

Improved Visibility for the Intended Viewer
The added privacy is provided without any detriment or hindrance to the computer's intended user. Within the visible range, the screen also cuts down on glare without dimming or blurring the picture. Light weight, and easy to install, the screen also adds a layer of protection to the LCD monitor.


Specifications
Anti-Glare

: Anti-glare

Screen Protector & Filter Type

: CRT

Screen Size (Diagonal in inches)

: 22"

Brand

: 3M

Weight

: 1.00 lbs. per Each