3M™ Privacy Filter for 21.5" Widescreen Monitor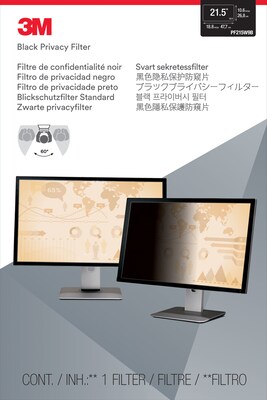 Not sure if this is the right filter for your screen? Click here to use our finder tool to ensure a proper fit.
Description
3M privacy and protection products work simply and beautifully on most of today's monitors to help protect your screens, and help keep the information displayed on them private.
The 3M privacy computer filter allows you to comfortably view sensitive information without fear of snoops. This filter ensures that anyone looking at your screen from an angle sees a dark, blank screen while you still see the actual screen. This filter not only protects your privacy, but it also protects your screen from scratches and scruffs. This privacy computer filter fits a wide-screen monitor or laptop and can be easily removed and repositioned.MEASURING FOR YOUR PRIVACY SCREEN & PROTECTORS:
Measure from the upper left corner diagonally down to the lower right corner. Make sure you measure the Viewable Area Only. For a proper fit, do NOT include the monitor or laptop frame or casing in your measurement. Also, note if your screen is in Standard (Ratio 4:3 +/-) or Widescreen (Ratio 16:9 +/-)format .
Widescreen privacy filter fits screens measuring up to 21.5"

Helps reduce reflections so you see your screen clearly with pristine image clarity

18-3/4" x 10-9/16"

Attachment strips and slide mount tabs

Limited 1-year warranty

Effective "black out" privacy from side views outside the 60-degree viewing angle

Reversible between a glossy side and glare-reducing matte

Got a question? Give us a call and we'll help! Call 1-800-789-1331.

Matte surface helps reduce glare and hide fingerprints

Easy to attach, remove and clean

Adds an extra layer of protection from everyday scratches and dust

Designed to seamlessly fit within the raised bezel of your device

Reduces 35% of blue light transmission from the display

100% hand inspected for quality assurance
Your confidential information is safe from strangers' eyes when you use the 3M 21.5-inch LCD widescreen monitor privacy computer filter. Anyone nearby sees only a blank screen, while you see crisp, clear images and data. Your screen is safe, too. The filter provides a layer of physical protection that keeps your screen clean and prevents scratches. Enjoy peace of mind and the freedom to work safely at your computer in public after applying a 3M privacy computer filter. These filters can be used on any device with a 21.5-inch LCD screen in a wide-screen format.

Protects Your Information
Your private information stays safe when you view it through a 3M LCD monitor privacy computer filter. Check your email, online bank account or other personal information from a coffee shop or commute without worrying who might be glancing your way. You have a clear view of your screen, but bystanders see only black.

Protects Your Screen
The 3M black privacy computer filter protects your monitor from scratches, dirt, and dust. The filter can be cleaned while still on your computer. When you want to remove or replace the filter, the adhesive comes off completely leaving behind no residue.

Easy to Apply and Remove
The 21.5-inch filter can be attached to monitors, laptops or tablets. It can be removed and repositioned easily. Repeated cleanings don't damage the filter's efficacy.


Specifications
Anti-Glare

: Anti-glare

Screen Protector & Filter Type

: Widescreen

Screen Size (Diagonal in inches)

: 21.5"

Brand

: 3M

Weight

: 1.00 lbs. per Each