8-1/2x11" 3-part Purchase Orders; White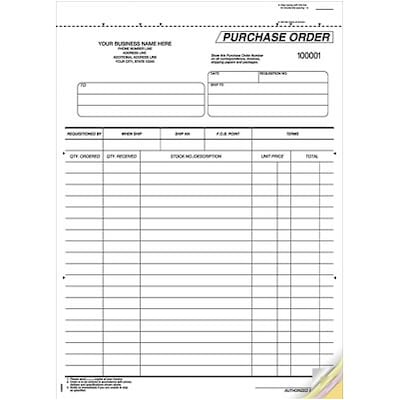 2 FIVE HUNDREDS = 1 THOUSANDS
Description
3-part form paper sequence: white, canary and pink

Copies are individually printed for clarity

Print up to 5 lines; imprint is the same color as form graphics

Free consecutive numbering

Size: 11Hx8-1/2"W detached
Quill Brand Three-Part Purchase Orders Help You Keep Track
Track your purchases with these large Quill Brand white three-part purchase orders. Keep duplicates for your records to prevent overspending or missing orders.
Never miss another order with these Quill Brand three-part purchase orders. Each sheet contains duplicates in pink and yellow to help you and your employees stay organized. Everyone gets a copy, and each layer is printed individually so that the lines and lettering are crisp and clear. The sheets are numbered consecutively to help you keep orders organized.
Plenty of Room for Detailed Records
Numerous labeled columns provide plenty of space to note all the essential information for each order, and the large 8.5 by 11-inch size lets your employees write detailed descriptions of each part or item. With separate forms for shipping addresses and recipients, you can be sure that your company's order ends up where it needs to be.
Specifications
Form Type

: Accounting

Format

: Purchasing Statements

Sheet Size

: 8-1/2" x 11"

Lines

: 19

Form Size

: 8-1/2" x 11"

Media Quantity

: 500

Binding Type

: Loose

Paper Color

:

White

Yellow

Number of Parts

: 3

Carbonless

: Yes

# Up Per Sheet/Page

: 1

NCR Paper

: No

Numbered

: Yes

Holes Punched

: None

Personalization

: Yes

Security Features

: No

Brand

: Quill Brand

Weight

: 52.00 lbs. per Thousands