8-1/2x7" 3-part Bill of Lading; Burgundy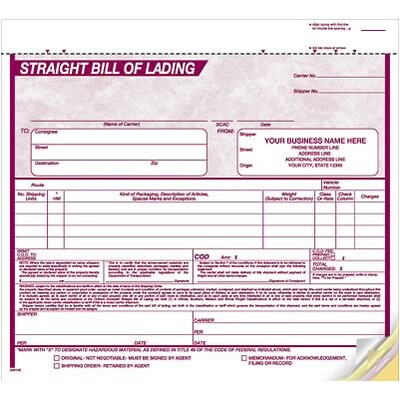 2 FIVE HUNDREDS = 1 THOUSANDS
Description
Simplified style is easy to use and has more description space

Print up to 5 lines; Imprint is the same color as form graphics

Paper sequence: white, canary, pink

Carbonless

Size: 7Hx8-1/2"W detached
Quill Brand 3-Part Bill of Lading Form in Elegant Burgundy
Ship small orders to any destination with Quill Brand three-part bill of lading forms. Burgundy ink makes the bill of lading stand out among other paperwork.
Create a permanent record of shipped goods with Quill Brand three-part bill of lading forms. Our burgundy colored forms stand out in busy shipping environments, making your shipments easier to recognize. Customize these forms with your company details for added visibility.
Simple to Use
Quill bill of lading forms contain everything your employees need to prepare items for shipment. These condensed forms have clearly labeled sections that are easy to read and comprehend. The extra description space helps shipping carriers know exactly what's inside shipping containers. The bottom section includes room for shipper and carrier details.
Instantaneous Copies
There's no need to look for a copier when using Quill's bill of lading forms, because every form produces two copies: one canary, one pink. Triplicate forms make record-keeping easier for everyone involved.
Specifications
Form Type

: Shipping/Bill of Lading

Format

: Shipping

Sheet Size

: 8-1/2" x 7"

Lines

: 4

Form Size

: 8-1/2" x 7"

Media Quantity

: 500

Binding Type

: Loose

Paper Color

:

White

Yellow

Number of Parts

: 3

Carbonless

: Yes

# Up Per Sheet/Page

: 1

NCR Paper

: No

Numbered

: Yes

Holes Punched

: None

Personalization

: Yes

Security Features

: No

Brand

: Quill Brand

Weight

: 28.00 lbs. per Thousands