8-1/2x7" 3-part Bill of Lading; Green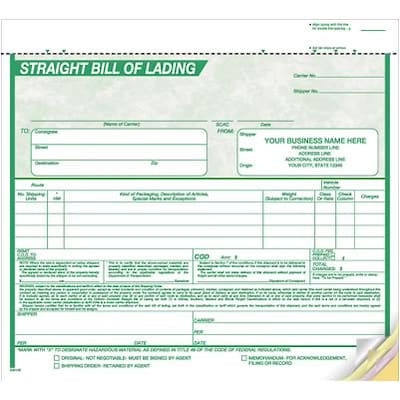 2 FIVE HUNDREDS = 1 THOUSANDS
Description
Simplified style is easy to use and has more description space

Print up to 5 lines; Imprint is the same color as form graphics

Paper sequence: white, canary, pink

Carbonless

Size: 7Hx8-1/2"W detached
Three-part Bills of Lading Make Shipping Simple
Three-part bills of lading make your shipping activities simpler than ever before. These forms have features to ensure convenience and simplicity.
Put the days of complex shipping behind you with these three-part, green bills of lading. These forms have a simplified design, plenty of space, and up to five lines of print, ensuring that everything your shipping department needs to list will fit, with room to spare.
Simplified Style
The simplicity of three-part bills of lading make them simple for both beginner and expert employees to use. Shipping can be incredibly complicated, so removing as much difficulty as possible is an appreciated bonus.
Plenty of Space
Three-part bill of ladings have plenty of additional space for detailed descriptions of your shipping content. For high-volume, complex deliveries, there's nothing better than having the room to make sure every possible detail is noted and kept in check.
Specifications
Form Type

: Shipping/Bill of Lading

Format

: Shipping

Sheet Size

: 8-1/2" x 7"

Lines

: 4

Form Size

: 8-1/2" x 7"

Media Quantity

: 500

Binding Type

: Loose

Paper Color

:

White

Yellow

Number of Parts

: 3

Carbonless

: Yes

# Up Per Sheet/Page

: 1

NCR Paper

: No

Numbered

: Yes

Holes Punched

: None

Personalization

: Yes

Security Features

: No

Brand

: Quill Brand

Weight

: 28.00 lbs. per Thousands