Duracell® Silver Oxide Camera Battery, 1.5V, 1-Pack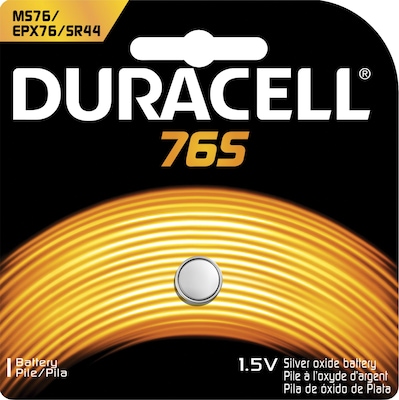 Description
Duracell 1.5-Volt Silver Battery Replacement - Button Style
Duracell 1.5 V Silver battery provides reliable, long-lasting power for your most used electronic devices and has a shelf life of 15 months. Battery is ideal to use in watches, camera, calculators and home security devices for optimum performance.
Battery size: 1.5V

1 battery

Silver oxide batteries for calculators, watches, and cameras

High-quality batteries for a variety of electronic devices

7-year manufacturer's guaranteed freshness dating

Outstanding performance in cameras, calculators, home security devices and handheld games.

1.5V silver oxide button cell camera battery

Freshness dating on each package and battery

On battery PowerCheck tester and/or on package tester for each size

1.5 volt

1 battery per pack

Is this the right battery for you?

This micro-sized button battery is full of power. It is a compatible replacement for a variety of button-style alkaline batteries on the market, including the D303, D357, LR1154, and countless others. It has a 15-month shelf life, which is longer than most batteries of its type and size. You can use it to power specialty devices or everyday items that you find at hardware stores, malls, and flea markets. The included pamphlet has a long list of batteries that the Duracell MS76 1. 5-volt silver battery can suitably replace. The pamphlet also has important safety information and tips to ensure safe battery use.

Power Many Different Items
This Duracell battery provides reliable power to home security systems, medical devices, specialty tools, watches, alarms, calculators, and many other items. With this battery, you'll get the same performance you would get if you were using a more expensive specialty battery, such as the DL 2032 medical battery, which is specially designed for use with glucose meters and blood-pressure monitors. This battery is also easier to find and purchase than most specialty batteries.

Economically Priced Button Battery
The Duracell MS76 1. 5-volt silver battery is economically priced, so you can purchase batteries in bulk and store them in a cool, dry place for future use. Keep them at your office, in your home, or any other place to ensure that they are readily available to power your electronic devices.

Long-Lasting Performance
This battery's efficient, reliable performance keeps customers satisfied with the Duracell brand.
Specifications
Battery Size

: 1.5V

Battery Pack Size

: Each

Battery Type

: Alkaline

Household Battery & Charger Type

: Battery

Rechargeable

: Not Rechargeable

True Color

: Silver

Brand

: Duracell

Weight

: 0.08 lbs. per Each