Flip Up Study Guide, Algegra 1
Brand:
Christopher Lee Publications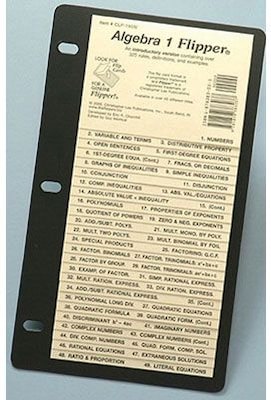 Description
Algebra 1 flipper study guide has many topics and simply pick a topic and "flip" the laminated card to reveal the information needed.
Christopher Lee Publications "Algebra 1" Flip up study guide includes topics like natural numbers/whole numbers/integers rational numbers/irrational numbers/real numbers. Guide is easy to use by simply picking a topic and flipping the laminated card.
Language: English

Subject: Math

Topics include: Natural numbers, whole numbers, integers rational numbers, irrational numbers and real numbers

Other topics include: Variable terms, like terms, distributive property and open sentence

Solution set, solving first degree equations, equations with fractions and equations with decimals is also covered in this flipper set

Lastly, additional topics that are covered include: Graphs of inequalities, solving simple inequalities, compound inequalities - conjunction, compound inequalities - disjunction and much more

Simply pick a topic and "flip" the laminated card to reveal the information needed
Specifications
Brand

: Christopher Lee Publications

Weight

: 0.30 lbs. per Each