Flip Up Study Guide, Geometry 1
Brand:
Christopher Lee Publications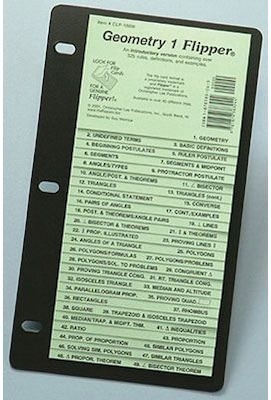 Description
Geometry 1 flip up study guide has many topics and simply pick a topic and "flip" the laminated card to reveal the information needed.
Christopher Lee Publications "Geometry 1" Flip up study guide has topics like undefined terms/postulates/theorems/collinear/non-collinear/coplanar/non-coplanar points. Guide is easy to use by simply picking a topic and flipping the laminated card.
Language: English

Subject: Math

Topics: Geometry definition, undefined terms, definitions, postulates, theorems, space, collinear and noncollinear points, coplanar points and noncoplanar points

Other topics include: Segment, ray, beginning postulates, ruler postulates, segment addition postulate and much more

Each flipper contains hundreds of rules, examples and definitions

Simply pick a topic and "flip" the laminated card to reveal the information needed

Grades 6 & up

The flippers also include examples and definitions
Specifications
Brand

: Christopher Lee Publications

Weight

: 0.25 lbs. per Each