Insten® BSONFM500CS1 Compact Battery Charger Set For Sony NP-FM500H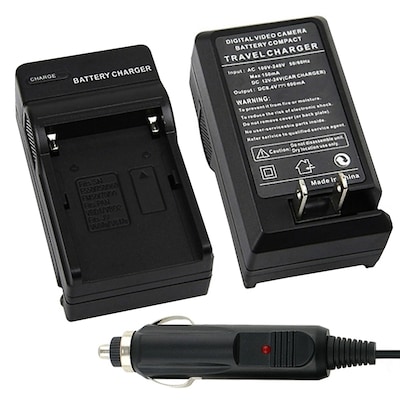 Description
Compact battery charger set for Sony NP-FM500H features quick charge with automatic constant current control prevents battery from overcharging, short circuit, and electronic shock.
Insten® Compact battery charger set for Sony NP-FM500H is handy companion for digital shooting and has LED indicator to show charging status. Charger offers charging with automatic current control to prevent short circuit and overcharging.
Smart LED indicator shows charging status

A/C power supply input voltage: AC100V~240V

Output voltage: DC8.4v 600mA

Input power supply: 100 - 240 VAC

Dimension: 3.25 x 1.5 x 1.75 inch

Battery charger with foldable AC plug

DC Cigarette lighter adapter (car charger) for any vehicle

Dimensions: 3 1/4" x 1 1/2" x 1 3/4"

WARNING: This product can expose you to chemicals including DEHP, which is known to the State of California to cause cancer and birth defects or other reproductive harm. For more information go to P65Warnings.ca.gov.
Compatible with: Sony Alpha A100 / A100H / A100K / A200 / A300 / A300K / A300X / A350 / A450 / A500 / A550 / A700 / A850 / A900 / SLT-A57 / SLT-A65 / SLT-A77, Sony CyberShot D Series DSC-D700, Sony CyberShot F Series DSC-F707 / DSC-F717 / DSC-F828, Sony CyberShot S Series DSC-S30 / DSC-S50 / DSC-S70 / DSC-S85, Sony Digital 8 DCR-TR648 / DCR-TR7000 / DCR-TRV103 / DCR-TRV108 / DCR-TRV110 / DCR-TRV120 / DCR-TRV130 / DCR-TRV138 / DCR-TRV140 / DCR-TRV15 / DCR-TRV210 / DCR-TRV230 / DCR-TRV240 / DCR-TRV250 / DCR-TRV260 / DCR-TRV280 / DCR-TRV310 / DCR-TRV315 / DCR-TRV320 / DCR-TRV330 / DCR-TRV338 / DCR-TRV340 / DCR-TRV350 / DCR-TRV360 / DCR-TRV460 / DCR-TRV480 / DCR-TRV510 / DCR-TRV520 / DCR-TRV525 / DCR-TRV530 / DCR-TRV720 / DCR-TRV730 / DCR-TRV740 / DCR-TRV818 / DCR-TRV820 / DCR-TRV828 / DCR-TRV830 / DCR-TRV840, Sony DSR-PD170 / DSR-PDX10 / HVL-IRM / HVR-Z1U, Sony DVD HandyCam DCR-DVD100 / DCR-DVD101 / DCR-DVD200 / DCR-DVD201 / DCR-DVD300 / DCR-DVD301, Sony GV Series GV-D1000 / GV-D200 / GV-D800, Sony Hi-8 CCD-SC55 / CCD-TR516 / CCD-TR716 / CCD-TR818 / CCD-TR910 / CCD-TR917 / CCD-TR930 / CCD-TR940 / CCD-TRV101 / CCD-TRV108 / CCD-TRV118 / CCD-TRV128 / CCD-TRV138 / CCD-TRV308 / CCD-TRV318 / CCD-TRV328 / CCD-TRV338 / CCD-TRV36 / CCD-TRV41 / CCD-TRV43 / CCD-TRV46 / CCD-TRV51 / CCD-TRV58 / CCD-TRV608 / CCD-TRV615 / CCD-TRV62 / CCD-TRV66 / CCD-TRV67 / CCD-TRV68 / CCD-TRV715 / CCD-TRV72 / CCD-TRV75 / CCD-TRV81 / CCD-TRV815 / CCD-TRV82 / CCD-TRV85 / CCD-TRV87 / CCD-TRV88 / CCD-TRV90 / CCD-TRV91 / CCD-TRV93 / CCD-TRV95 / CCD-TRV98 / CCD-TRV99, Sony High Definition HandyCam HDR-FX1 / HDR-HC1 / HDR-SR1, Sony Mavica - CD MVC-CD1000 / MVC-CD200 / MVC-CD250 / MVC-CD350 / MVC-CD400, Sony Mavica - FD MVC-FD100 / MVC-FD200 / MVC-FD5 / MVC-FD51 / MVC-FD7 / MVC-FD71 / MVC-FD73 / MVC-FD81 / MVC-FD83 / MVC-FD85 / MVC-FD87 / MVC-FD88 / MVC-FD90 / MVC-FD91 / MVC-FD92 / MVC-FD95 / MVC-FD97, Sony MiniDV HandyCam DCR-PC100 / DCR-PC101 / DCR-PC105 / DCR-PC110 / DCR-PC115 / DCR-PC120 / DCR-PC120BT / DCR-PC330 / DCR-PC9 / DCR-SC100 / DCR-TRV10 / DCR-TRV11 / DCR-TRV16 / DCR-TRV17 / DCR-TRV18 / DCR-TRV19 / DCR-TRV20 / DCR-TRV22 / DCR-TRV25 / DCR-TRV27 / DCR-TRV30 / DCR-TRV33 / DCR-TRV37 / DCR-TRV38 / DCR-TRV39 / DCR-TRV40 / DCR-TRV5 / DCR-TRV50 / DCR-TRV6 / DCR-TRV7 / DCR-TRV70 / DCR-TRV8 / DCR-TRV80 / DCR-TRV9 / DCR-TRV900 / DCR-TRV950 / DCR-VX1000 / DCR-VX2000 / DCR-VX2100, Sony Video 8 CCD-SC65 / CCD-TR3000 / CCD-TR3300 / CCD-TR555 / CCD-TR67 / CCD-TR76 / CCD-TR87 / CCD-TRV15 / CCD-TRV215 / CCD-TRV25 / CCD-TRV57
Specifications
Camera & Camcorder Accessory Type

: Charger

Brand

: Insten

Weight

: 75.00 lbs. per Each