OKI® Dot-Matrix Printers, Microline® 390 Turbo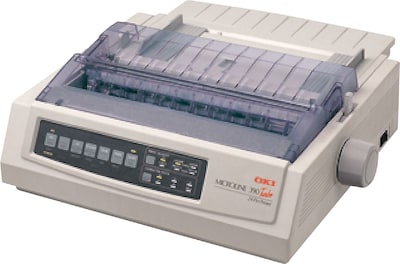 Description
Okidata ML 390T dot-matrix printer makes it easy to produce multi-page forms
Use this OKIdata printer to produce carbon copies or multi-page forms for clients, vendors and internal files. The machine comes standard with USB and parallel ports, and an optional serial port is available in case you need to connect to an older piece of equipment. Because the machine uses 24-pin technology, it produces clear images with fewer passes, reducing print times and conserving ink.
Dot-matrix printer makes up to five form parts, making it easy to create duplicate pages for customers or vendors

24-pin technology speeds up printing times by producing denser patterns in fewer passes

Printer has a maximum resolution of 360 x 360 dpi for high-quality results

USB and parallel interfaces make it easy to connect the printer to a computer

Narrow carriage without box measures 15.7"W x 13.6"D x 4.6"H

Printer has a buffer memory of 64KB for easy processing of multiple print jobs

Optional RS-232C serial port works with older office equipment, eliminating the need to upgrade everything at the same time

Printer produces up to 104 characters per second, reducing the time it takes to print large jobs

Reliable form printing for increased productivity in general office and utility applications

24-pin dot-matrix printer excels in dedicated form printing, and is up to 30% faster than its closest competitor

Durable and easy to use—Microline® 390 also features continuous-form paper handling

360 x 360 bit-mapped graphic resolution

Features Quiet Mode

Manufacturer's 1-year warranty

24 pin technology

390 cps printer speed

Maximum form parts: 4

Whether it's called on to handle long print runs or a single piece of letterhead, an envelope or a spreadsheet, in the back office or on the service counter, the ML390 Turbo is the way to go

This 24-pin dynamo excels in dedicated forms printing, turning it out equally fast and precise with pin feed or cut sheet stock

And its precision is a real benefit when printing diagrams from service manuals

And its combination of versatile paper handling, performance and speed can't be matched

Brief, you will feel simply unfettered in your printing by using ML390
Print stunning banners using pin feed sheets, or produce high-quality letters using cut sheets on the OKI Okidata printer. This dot-matrix printer increases your productivity with its fast printing speed and ability to handle multiple paper types.

Multiple Printing Options
Feed individual sheets through this printer, or use continuous-form paper for larger printouts. A 360 x 360 bitmapped graphic resolution ensures quality output, and operating the 24-pin printer in Quiet mode keeps the noise down.

Fast Printing Power
With its ability to print at speeds of up to 390 characters per second, this dot-matrix printer rivals laser printers in productivity. Use the auto-tear feature to separate continuous runs of paper, and keep the printouts coming without having to continuously reload the paper. Thick paper feeds easily through the pins without tearing.




Specifications
Brand

: Okidata

Weight

: 21.00 lbs. per Each