Post-it® Super Sticky Full Adhesive 3" x 3" Rio De Janiero Notes, 12 Pads/Pack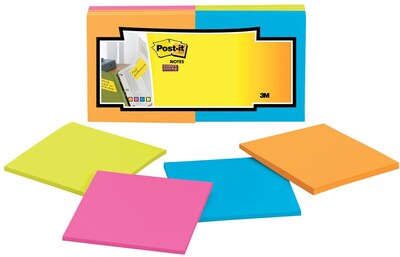 Buy more & save!
| | | | |
| --- | --- | --- | --- |
| Qty | 1-2 | 3-5 | 6+ |
| Price | $12.99 | $12.49 | $11.99 |
| Save | | 3% | 7% |
Buy more & save!
| | | | |
| --- | --- | --- | --- |
| Qty | 1-2 | 3-5 | 6+ |
| Subscription Price | $12.34 | $11.87 | $11.39 |
| Save | 5% | 8% | 12% |
Product Highlights
Adhesive: Super Sticky, Full Adhesive
Color Family: Rio de Janeiro Collection
Post-it Size: 3 x 3
View Full Product Information
Buy more and save!

$10 off

when you spend $50 on Post-it. Use code

SU9DLR94

. See disclaimer
Description
Post-it® Super Sticky Full Adhesive Notes, Rio De Janeiro Collection, 3" x 3", 12 Pads/Pack (F330-12SSAU)
Post-it Super sticky full adhesive notes in assorted Rio De Janiero colors measure 3" x 3" and offer reliability to use in new places. Recyclable notes with rounded corners for fast, easy removal are sold as 12 pads per pack, each containing 25 sheets.
3" x 3", Assorted Rio De Janiero Colors, 25 sheets per pad

Stick an entire pad on the cover of your notebook or on your laptop.

Provides versatility and reliability, for new uses in new places

Pads stays put so you always have notes handy

Non-stick edge has rounded corners for fast, easy removal from pad

More adhesive for a better stick

Pack includes 12 Pads

3" x 3", Rio de Janeiro Collection

Colorful Post-it® Super Sticky Notes inspired by colorful cities

Expressive and dramatic colors celebrate this Brazilian metropolis

Sticks securely. Removes cleanly

Perfect size for a quick reminder

All Post-it Notes are recyclable

These Post-it notes come in bright colors, making them a great choice for when you want to set reminders for yourself that you will see. The back of each note is made with a super-sticky adhesive, so you can put it on your desk, wall, or even your laptop. With twenty-five sheets per pad, there will be more than enough Post-its to go around the office.

Versatile
Post-it bright notes feature a super-sticky adhesive design that can be stuck to a number of surfaces, giving you the versatility you need when you want to get a message to your coworker. Stick them on a wall, a cubicle, or even a desk so you can be sure that your intended recipient sees your note.

Write Away
With twelve pads included per pack of Post-it notes, you'll have more than enough for you and your workforce. Use a ballpoint pen, pencil, or marker to write reminders to yourself and your coworkers.

Nonstick Edges
Each note features nonstick edges that make it easy to remove and throw away your message after it has been received. This way, you won't have a bunch of old Post-it notes sticking around your office.
Specifications
Color Family

: Rio de Janeiro Collection

Adhesive

: Super Sticky, Full Adhesive

Post-it Size

: 3 x 3

True Color

: Rio de Janeiro Collection

Dispenser Included

: Super Sticky, Full Adhesive

Greener or Recycled Content

: No

Pads per Pack

: 12

Sheet Count

: 25/pad

Line Ruled

: Unlined

Number Sheets Per Pad

: 25/pad

Number of Pads

: 12

Brand

: Post-it

Weight

: 0.39 lbs. per Pack
More In This Collection
Post-it® Telephone Message Notes, 4x5 When you buy

6

+

Post-it® Super Sticky Notes, 6" x 4", Rio de Janeiro Collection, 8 Pads/Pack When you buy

3

+

Post-it® Super Sticky Notes, 8" x 6", Rio de Janeiro Collection, 4 Pads/Pack When you buy

3

+

Post-it® Super Sticky Notes, 5" x 8", Rio de Janeiro Collection, Lined, 4 Pads/Pack When you buy

6

+

Post-it® Super Sticky Notes, 3" x 3", Rio de Janeiro Collection, 12 Pads/Pack When you buy

6

+

Post-it® Super Sticky Notes, 4" x 6", Rio de Janeiro Collection, Lined, 3 Pads/Pack When you buy

6

+

Post-it® Super Sticky Notes, 8" x 6", Rio de Janeiro Collection, Lined, 4 Pads/Pack When you buy

3

+

Post-it® Super Sticky Notes, 4" x 4", Rio de Janeiro Collection, Lined, 6 Pads/Pack When you buy

6

+

Post-it® Super Sticky Notes, 2" x 2", Rio de Janeiro Collection, 8 Pads/Pack When you buy

6

+

Post-it® Super Sticky Notes, 3" x 3", Assorted Colors, 15 Pads/Pack

Post-it® Super Sticky Notes, 3" x 3", Rio de Janeiro Collection, 5 Pads/Pack When you buy

6

+

Post-it SS Pop-up 3x3" Rio Notes, 6 Pd/Pk When you buy

6

+

Post-it® Super Sticky Pop-up Notes, 3" x 3", Rio de Janeiro Collection, 10 Pads/Pack When you buy

8

+

Post-it® Super Sticky Full Adhesive Notes, 3" x 3", Rio de Janeiro Collection, 4 Pads/Pack When you buy

6

+

Post-it® Super Sticky Full Adhesive Notes, 2" x 2", Rio de Janeiro Collection, 8 Pads/Pack When you buy

6

+

Post-it SS Full Ad Notes, 3"x3", 16 Pads/Pk