Red Bull® Original Energy Drink, 8.4 oz. Cans, 24/Pack (RBD99124)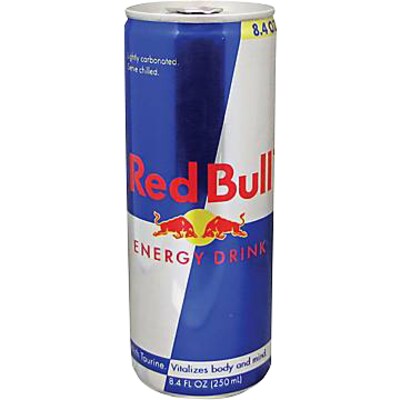 We apologize. Due to specific distributor agreements, this product cannot be sold to on or off premise liquor establishments.
Description
Red Bull Energy Drink 8.4 oz Cans, 24-pack Case
Red Bull Original flavor energy drink in 8.4 oz can makes you feel more energetic and contains a unique combination of high quality ingredients.
Regular

8.4 oz. cans

Red Bull contains B-Group vitamins, taurine, glucuonolactone, caffeine and acesulfame K

Improves vigilance

Inreases concentration and reaction speed

Stimulates metabolism

Makes you feel more energetic and thus improves your overall well-being

Satisfy your thirst while giving yourself a burst of energy with a case of Red Bull. Each can contains a formula that increases mental and physical performance to give you the competitive edge that you need.

Nutritional
In addition to being tasty, each 8.4 oz can of Red Bull is filled with nutrients. The special formula contains B-group vitamins, glucuonolactone, taurine, and acesulfame K, providing your body with needed nutrients with every drink taken.

24-pack for Convenience
The individual cans come in a 24-pack, providing plenty of Red Bull to enjoy over an extended length of time. With 24 cans included, there's fewer trips needed to replenish your stock, saving you time on trips to the store for more.

Stimulates Your Body
Red Bull is a true energy drink, giving you the bit of stimulation you need to get through tough physical or mental challenges. You'll find that it increases your general performance levels by stimulating your metabolism, increasing your mental concentration, and increasing your physical reaction speed. An effective sugar-free Red Bull version is available too.
Specifications
Drink Flavor

: Original Flavor

Energy Drink Type

: Energy Drinks

Capacity (oz.)

: 8.4 oz

Warnings

: Pregnant Women

Energy Drinks Container Type

: Can

Weight

: 1.00 lbs. per Case