Startech FANDURONTB Socket A CPU Cooler Fan With Heatsink For AMD Duron or Athlon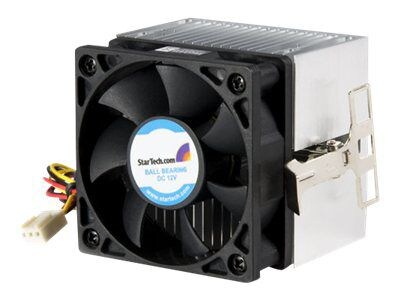 Description
Startech.com® Socket A cooler fan with heat sink measuring 60x65mm provides efficient cooling for AMD duron and athlon CPUs.
Startech.com® Socket A cooler fan with heat sink has a maximum speed of 4000 rpm and built in speed sensor for efficient speed control. Aluminium heatsink is designed for cooling AMD duron and athlon CPUs.
Length: 65 mm

Interfaces: 1 x Molex fan 3-pin Tx3, Female

Dimensions: Heatsink: 2.3"(H) x 2.3"(W) x 1.3"(D), fan: 0.78"(H) x 2.36"(W) x 2.36"(D)

Application/usage: Processor

Black

Input voltage: 12 VDC

Fan speed: 4000 rpm, air flow: 23.2 CFM, fan diameter: 2.36"

Noise level: 38 dBA

Materials: Aluminum heatsink, plastic fan enclosure

Includes 1 x CPU cooler for socket A/370, 1 x package of silicon heat paste

Compatibility: AMD Duron up to 1.4 GHz, AMD Athlon up to 1.4 GHz, socket A (462 pins) and Intel socket 370 motherboards

Ball bearing fan type

Built-in speed sensor allows the system to monitor fan speed and operating status

Provide cooling to an AMD socket A or Intel socket 370 desktop CPU

Socket A cooler provides suitable cooling for Duron CPUs up to 1300MHz, Thunderbird Athlon CPUs up to 1333MHz and Athlon xP CPUs up to 2000+

Complaint: RoHS

Weight: 8 oz.

Warranty: 2 years limited
High Speed
This StarTech.com CPU cooler fan blows air through your computer'scasing efficiently. Despite its compact size, the fan spins at a full 4,000 rpm, pushing a large volume of fresh air across your computer's internal components.
Low Turbulence
The cowling of this StarTech.com CPU cooler fan stabilizes the unit's airflow. Airflow that is less turbulent air is quieter, which keeps the fan's maximum volume to a mere 38 dBA.
Built-In Heatsink
The aluminum heatsink absorbs radiant heat from your motherboard without generating any noise. The aluminum construction is lighter than steel and conducts heat away with greater efficiency, reducing the demand on the fan and keeping the delicate internal circuitry from melting, shorting, or overheating.
Specifications
Fans & Cooling Kit Type

: CPU Coolers

Item Material

: Aluminum

Product Color Family

: Black

Height (in.)

: 2.36"

Width (in.)

: 2.36"

Depth (in.)

: 0.78"

Connection

: 1 Molex Fan 3 pin Tx3, Female

Diameter (in.)

: 2.55"

Air Flow (Maximum CFM)

: 23.2 CFM

Power Supply

: 12 VDC

Acoustic Noise

: 38 dBA

Speed (RPM)

: 4000 RPM

Brand

: StarTech

Weight

: 1.00 lbs. per Each