AdirChef Digital Sous Vide Pod Immersion Circulator Precision Cooker with Digital Timer (860-01)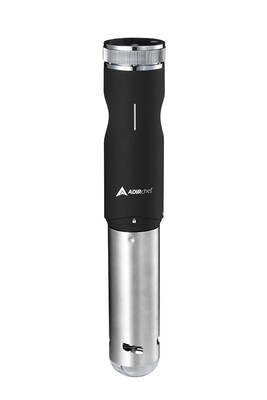 Description
Capture the innovative cooking techniques of sous vide water ovens with a low-cost, functional solution! The AdirChef Digital Sous Vide Pod Immersion Circulator Precision Cooker with Digital Timer allows you to precisely control temperature and prepare perfectly cooked dishes every time. The universal clip design allows you to easily attach the immersion cooker to the side of almost any pot and start cooking immediately! Minimizing the size and storage space needed for self-contained, sous vide water ovens, this design allows you to use utensils you already own to to provide a great, space-saving alternative.
Sleek and compact design

Great flavor

Accurate temperature reading
Simple and easy to use, there are two buttons to operate the device. Press the power button to choose your settings, then use the gear icon to toggle between target temperature, hours and minutes. Set the digital thermostat with the touch of a button and read the digital display with ease as you unlock the sous vide amazing cooking techniques in your own home. The active control thermostat system will heat and regulate water temperature, incorporating precision temperature settings within +/- 0.01 degree for accuracy. The quiet motor and easy-to-use dial and display simplify the sous vide process, creating a classic system for gentle even cooking. When the target temperature is reached, the cooker will beep to let you know you can put the food in pot. When it is done, the device will beep again and conveniently shuts off. Heating and circulating water with ingenuous precision, the end result will always be the same. AdirChef Digital Sous Vide Pod cooks the food so the interior and exterior both boast the same incredible flavor and texture. A gourmet culinary technique used by chefs around the world, the sous vide method allows you to cook food to perfection every time, right in your own home!
Specifications
Type of Carafe

: Electric Kettles

Brand

: AdirChef

Weight

: 2.30 lbs. per Each