APC® Back-UPS® RS Series, 1500VA, 10-Outlet Power-Saving UPS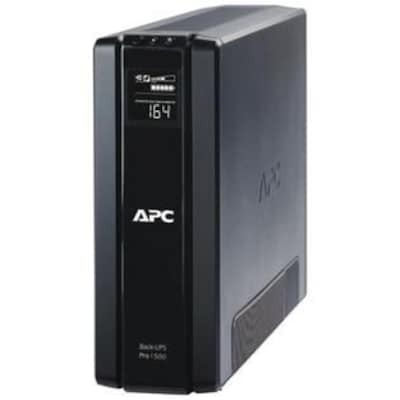 Description
APC Back-UPS® RS 1500VA 10-outlet power-saving UPS offers protection against power outages
Protect your computer from power surges and ensure you don't lose your current work with this APC Back-UPS power-saving UPS. With three minutes at full load,13 minutes at half load and an 865-watt load capacity, this power-saving UPS provides plenty of time to save important files or power down your computer during a power outage. The easy-to-read LCD status display on this UPS makes it easy to check the status of the device, and the UPS offers coax, Ethernet and data line protection to prevent electrical spikes from traveling through network devices and damaging your server or computer.
Power-saving UPS protects server or computer from power interruption

1500 VA / 865 W load capacity

301 mm (H) x 112 mm (W) x 382 mm (D)

Eight hour recharge with three minute full-load runtime or 13 minute half-load runtime for quick charging and long-lasting backup power

120 VAC, 50/60 Hz +/- 3 Hz output voltage

The 10 outlets offer support for multiple devices

Ethernet, coax and data line protection keeps devices safe from electrical spikes

10 outlets: 5 battery/surge, 5 surge only

120V input voltage; 355 joules

Typical run time: 11.8 minutes (half load); 3.1 min. (full load); 8-hour battery recharge time

Got a question? Give us a call and we'll help! Call 1-800-789-1331.

Automatic Voltage Regulation (AVR) gives higher application availability by correcting low and high voltage conditions without using the battery

Control panel includes multifunction LCD status and control console

Patent-pending Green mode bypasses unused electrical components in good power conditions to achieve very high operating efficiency without sacrificing any protection

Low-battery and overload alarms

Energy-saving battery Back-UPS RS Series.

High-performance battery backup and protection for office computers

New green feature automatically turns off idling peripherals to save electricity and money

Auto shutdown software
Protect mission-critical systems with this APC Back-UPS Power-Saving UPS. This uninterruptible power supply keeps your electronics functioning normally during temporary losses of grid power.

Keep the Lights On
Never be in the dark during a temporary power outage with this power-saving UPS. Bad weather or other short-lived line losses can dampen the supply of electricity to your office. With this APC backup, you can keep desk lamps burning and computers humming, all while suppressing spikes, smoothing over brown outs and stepping in during black outs.

Prevent Aggravation
Having the power go out at the wrong moment can mess up a lot of work, such as printing documents or downloading files. With this 10-outlet power-saving UPS, your office can save on resources by not having to redo work nor lose money because the modem went offline at the wrong time. You have power when you need it for all your equipment with plenty of outlets for the average desktop environment.

Protect Your Computer
In addition to providing ports for your Ethernet and coax cables, this PC-compatible power-saving UPS also has a USB outlet for directly accessing the unit's control panel from your PC. The complete suite of power protection and management features are at your fingertips for monitoring the electrical status of all your connected devices.


Specifications
Brand

: APC

Weight

: 29.00 lbs. per Each