Artograph Design Master Projector Design Master Projector With Stand (225-323)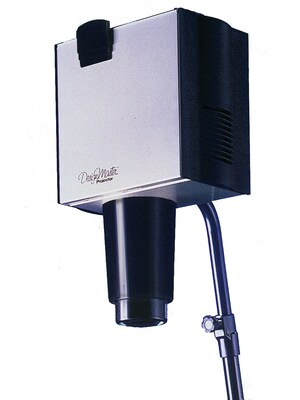 This item is not available.
We can notify you when it's back in stock
Notify me
Description
Design like the Masters! Since the 15th century, art projectors have offered the artist a seemingly magical method for visualizing images onto canvas, paper, and walls. The DesignMaster comes complete with an easy to attach adjustable stand. For table top projection, simply clamp the stand to any table or work area. Mount designs or photos onto the copy board safely with Artograph's unique magnetic system. Enlarge up to 400% or reduce to 70% onto the table top. Greater enlargement can be obtained by simply removing the DesignMaster from the stand and projecting up to 30 times onto a wall or canvas. The DesignMaster offers bright, clear quality in the projected image from any opaque composition, photograph, drawing or pattern. Turn on the 250 watts of power and adjust to the desired size. Rotate the lens for a crisp, clear image.White drawing platforms is recommended when projecting vertically. 16 in. x 24 in.
Visualize images onto canvas, paper, and walls

Since the 15th century, art projectors have been an essential tool utilized by Master Artists

Comes complete with an easy to attach adjustable stand, for table top projection, simply clamp the stand to any table or work area

Mount designs or photos onto the copy board safely with Artograph's unique magnetic system

Enlarge up to 400% or reduce to 70% onto the table top

Greater enlargement can be obtained by simply removing the DesignMaster from the stand and projecting up to 30 times onto a wall or canvas

Offers bright, clear quality in the projected image from any opaque composition, photograph, drawing or pattern

Turn on the 250 watts of power and adjust to the desired size

Rotate the lens for a crisp, clear image

White drawing platforms recommended when projecting vertically

16 in. x 24 in. white pastic laminated board attaches to the DesignMaster stand

Offers portabitily and a convenient drawing surfure

description: design master projector with stand