Brother® 3015 Lift-Off Correction Tape, 6-Pack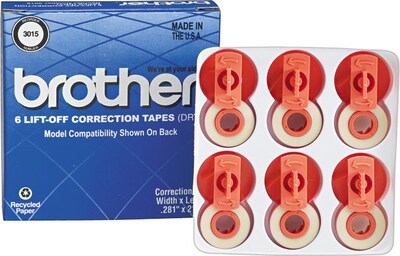 Description
Prepare for edits by stocking up on Brother 3015 lift-off correction typewriter tape in black.
Stock up your work station with a pack of six Brother 3015 lift-off correction typewriter tape dispensers. Be prepared for edits with this versatile tape in black for use with EM530, EM630, ML100, ML300 and SX4000 models. This product is compatible with other Brother models, alphatext models, altos models and many others, making it an all-around office tool. Use this correctable film with impact printers or typewriters to ensure your work is ready to read.
For use with EM530, EM630, ML100, ML300, SX4000

Correctable film

Print technology: Impact printer, typewriter

Compatibility: Compatible Brother models: 50, 7500, 7600, AX-10, AX-12, AX-12M, COM, compactronic, correctronic, executron, professional, student-riter, compatible Addo-X models, compatible adler models, compact, gabrielle, satellite, compatible adler royal models, compatible almatronic models

Compatibility: Compatible alphatext models, altos models, american datacom models, arba models, binder models, blue chip models, BMC international models, BSI models, butec models, canon models, casio models, city models

Brother® 3015 white lift-off single line correction tape designed for use with Brother® and other office machines (see Compatible Printers tab for more information and model compatibility)

Made in USA

1,500/tape

6-pack Lift-off Correction Tape

Quality typewriter compatible with Brother HR10 through 40


Wide Model Compatibility
Execute your edits with this widely compatible pack of Brother lift-off correction tape dispensers. The tape gives you the freedom to work with a wide variety of typewriter models including EM530, EM630, ML100, ML300 and SX4000 models. The tape also works with other Brother models as well as Alphatext and Altos models.

Correctable Film
Prepare for edits in your typewriting work with this pack of correction typewriter tape dispensers. The correctable film ensures that you obtain neat work in your office typing expeditions. The versatile tape equips you for edits in black and enables you to present work in a manner that is ready for reading.

Reliable Technology
Prepare your work for reading with this correctable film that operates with various printer technologies that include impact printers and typewriters. The tape offers you the benefit of running both printer technologies according to your taste and capability in the office environment.


Specifications
True Color

: Midnight Black

Typewriter Printing System

: Daisy wheel

Typewriter Type

: Typewriters

Brand

: Brother

Customizable

: No

Weight

: 1.46 lbs. per Each
Compatible Printers
This product is compatible with these printers:
Adler
BSM 100
Compact 400
Compact 400 DS
Gabrielle 100
Gabrielle 100 DS
Gabrielle 8008
Gabrielle 9009
Gabrielle Cyclo
Gabrielle PFS
Imperial Alpha 110
Meteor II
Office Master 2000
Satellite 40
Satellite 80
Satellite 2001
Satellite 2002
Satellite 2015
Satellite II
Satellite III
Satellite IV
Satellite V
Satellite VI
Satellite Viii
SE 305
SE 1005 XL
SE 1011
SE 1020
Adler Royal
BSM 100
Gabrielle 100
Gabrielle 100 DS
Gabrielle 100 SC
Gabrielle PFS
Satellite 40
Satellite 80
Satellite 2001
Satellite II
Satellite III
Satellite IV
Satellite V
Satellite VI
Satellite Viii
SE 1030
Brother
Compactronic 35
Compactronic 40
Compactronic 45
Compactronic 50
Compactronic 58
Compactronic 60
Compactronic 300
Compactronic 300M
Compactronic 310
Compactronic 320
Compactronic 333
Compactronic 340
Compactronic 350
Compactronic 360
Compactronic 380
Compactronic I
Compactronic II
Compactronic III
Computronic 60
Correctronic 35
Correctronic 40
Correctronic 50
Correctronic 65
Correctronic 140
Correctronic 145
Correctronic 320
Correctronic 333
Correctronic 340
Correctronic 360
Correctronic 380
EM 721-FX
EM 750-FX
EM 801
EM 811
EM 811-FX
EM 850-FX
EM 1000
EM 1050
EM 1050 DS
EM 2000
EM 2050
EM 2050 D
Executron 50
Executron 60
Executron 65
Executron 68
Executron 70
GX 6000
M-Office 7000
M022
ML-100
Perfectype
Professional 80
Professional 90
Professional 400
Professional 440
PY-75 Portable
PY-80 Portable
PY-80+ Portable
Student-Riter II
Student-Riter XL1
SX-14
SX-16
WP 200 STM
WP 230 B
WP 330 MDS
WP 760 D Plus
WP 800 MDS
WP 900 MDS
WP 1150
WP 1250
WP 1350 DS
WP 1400 D
WP 1450 DS
WP 1500 D
WP 1600 D
WP 1700 MDS
WP 1800 Neowriter
WP 2450 DS
WP 2500 Q
WP 2600 Q
WP 2800 Q
WP 3400
WP 3410
WP 3550
WP 3600 D
WP 3650 D
WP 3900
WP 3900 DS
WP 3950
WP 4750 DS
WP 5500 DS
WP 5550
WP 5600 MDS
WP 5750 DS
WP 5750 MDS
WP 5850 MDS
WP 5900 MDS
WPT-470
Canon
AP 200
AP 200 II
AP 200 E
AP 200 X
AP 200 X-II
AP 210 X
AP 300 II
AP 300 X
AP 310
AP 350 II
AP 350 X
AP 360
AP 400 II
AP 410
AP 410 X
AP 500
AP 500 S
AP 500 II
AP 810 III
AP 830
AP 830 III
AP 850
AP 850 III
AP 1000
Casio
Casiowriter
CW-110
CW-150
City
Typer 10
Typer 20
Typer 30
Daro
Erika 105
Erika 127
Erika 2020
Erika 6005
Erika 6006 - Early Models
Erika 6006 - Late Models
Erika 6210
Erika 6212
Erika 6220
Robotron 6005 - Early Models
Robotron 6006 - Early Models
Robotron 6006 - Late Models
Robotron 6008
Robotron 6009
Robotron 6010
Robotron 6011
Robotron 6012
Robotron 6015
Robotron 6120
Robotron 6121
Robotron 6125
Robotron 6130
Robotron 6131
Epson
CR IV
DX-100
Elite 350 Plus
Ericsson
Eritex 10
Eritex 10S
SPM 3664
Hermes
Japy J606
S-40
Toptronic 10
Toptronic 14
Toptronic 15-1
Toptronic 15-2
Toptronic 15-3T
Toptronic 15-4T
Toptronic 15-5T
Toptronic 17-1
Toptronic 17-2
Toptronic 18
Toptronic 18-2T
Toptronic 18-TM
Toptronic 20
Toptronic 40
Toptronic 41
Toptronic 42
Toptronic 48
Toptronic 51
Toptronic 60
IBM
Actionwriter
Actionwriter I
Imperial
Gabriele 7007
Gabriele 8008L
Gabriele 9009
SE 305 Compact
SE 310
SE 315
SE 5010
SE 5010WP
SE 5011
SE 5011N
SE 5020
SE 5020C
Juki
Sierra 3300
Sierra 3400
3300
Kardex
Remstar ALL AE 330
Remstar ALL AE 350
Remstar ALL AE 355
Remstar ALL AE 385
Remstar ALL AE 395
Nakajima
WPT-160F
WPT-160RF
WPT-160S
Olivetti
CX 440
CX 440 M
CX 440 Plus
Olympia
Astrotype
Carrera
Carrera DE Luxe
Carrera DE Luxe MD
Carrera MD
Carrera S
Carrera SC
Carrera SI Exclusive
Carrera SL
Carrera II WP
Carrera III
Carrera IV
Carrera IV DE Luxe
Classic
Classic MD
Comfort
Comfort Junior
Comfort MD
Comfort MT
Comfort WP
Comfort WP/D
Compact
Compact i
Compact S
Compact 2
Compact 3
Compact 5
Compact 5 DM
Competence
Competence MD
Competence MT
Competence WP
Disque
Electronic Compact
Electronic Compact RO
Electronic Portable
ES 100 S
ES 100 SC
ES 101
ESW 1000 C
ESW 2000
ESW 2000 C
ESW 2000 i
ESW 2500
ESW 2500 i
ESW 3000
ESW 3000 K
Eurotronic
Excellence 230
Excellence 230 i
Mastertext
Mastertype
Mastertype Plus
Mastertype 2
Mastertype 3
Mastertype 100 i
Mastertype 110 i
Mastertype 120 i
Mastertype BT
Mastertype D
Mastertype i
Mini Office 60
Mini Office 61 i
Mini Office 62 i
Olytext 20
Orbit
Orbit DM
Personal Writer
Professional
Professional 220
Professional 220 i
Report Electronic
Sprintertype
SR101ECF
Standard
Standard 100
Standard 150
Standard 200
Standard 200 i
Standard 210
Standard 210 i
Standard 220 i
Standard 300
Startext Excellence
Startype
Startype 2
Startype 3
Startype 130
Startype 130 i
Startype 150 i
Startype 230
Startype 240
Startype BA i
Startype i
Supertype
Supertype 2
Supertype 210
Supertype 220
Supertype 230
Supertype 230 BA i
Supertype 230 i
Supertype 240
Supertype 240 i
Supertype 250
Supertype 250 i
Supertype 330
XL 120
XL 121
Privileg
Electronic 2000
Electronic 3000
Electronic 3600
Electronic 5000
Electronic 6000
500
Quen Data
Excellence 70
Excellence 70 C
Excellence 70 VC
Excellence 77
Excellence 90
72
Royal
Alpha 110
Alpha 115
Alpha 605
Alpha 600
Alpha 600 P
Alpha 610
Alpha 620 C
Alpha 700 D
Alpha 2001
Alpha 2002
Alpha 2015
Beta 220
Beta 225
Beta 8000T
Beta 8050
Beta 8100
Beta 8200C
Beta 9000D
BSM 100
Compact 400
Compact 400 DS
Compact 600 DS
Gabrielle 100
Gabrielle 100 DS
Gabrielle 100 SC
Gabrielle 7007 DS
Gabrielle 7007 L
Gabrielle 8008
Gabrielle 9009
Gabrielle PFS
Meteor II
Office Master 2000
Satellite 40
Satellite 80
Satellite 2002
Satellite 2010
Satellite 2015
Satellite II
Satellite III
Satellite IIIc
Satellite IV
Satellite V
Satellite VI
Satellite VIII
SE 305
Signet 20
Signet 25
Signet 45
Signet 45 T
Signet 70
Signet 100
TRD 1030
TRD 1040
TRD 1705
Samsung
SQ-3200 L
SQ-3500
SQ-3550
Sears
Corrector II
Corrector III
Electronic Communicator I
Electronic Communicator II
Electronic Scholar SR2000
Electronic Scholar SR3000
SR 1000 The Electronic I
SR 1000 The Electronic II
SR 1000 The Electronic III
SR 2000 Electronic Scholar
SR 3000 Electronic
5301
53010
53011-650
53013-650
53051-650
53061-650
53070
53108-750
53208-750
53209
53308-750
53309-850
53408-750
53508
53509-850
53510-850
161.53011-650
161.53013-650
161.53015
161.53020
161.53022
161.53025-650
161.53030
161.53031-550
161.53041-550
161.53045
161.53051-650
161.53061-650
161.53108-750
161.53208-750
161.53209
161.53308-750
161.53309-850
161.53408-750
161.53509-850
161.53510-850
161.53511
161.53512
161.53514
268.53070
Silver Reed
EX 300 FD
EX 400
EXW 2000
EZ 50
Memorymatic 44
RO 55
Smith Corona
EC 1300
EC 1300RO
EL 4000
ET 1300
Typetronic III
1100
Swintec
Collegiate
Compumate 2100
PWP 1000
1146 CMP
1186 CM
1186 CMP
Towa
Excellence 55
Excellence 66
Excellence 66 IF
Triumph Adler
Alpha 600
Alpha 610
Alpha 620 C
Alpha 700 D
Alpha 2001
Alphatronic
Beta 8100
Beta 9000D
BMA 8200C
BSM 100
Compact 400
Compact 400 DS
Compact 600 DS
Gabrielle 100
Gabrielle 100 DS
Gabrielle 100 SC
Gabrielle 110
Gabrielle 110 DS
Gabrielle 7007 DS
Gabrielle 7007 L
Gabrielle 7077
Gabrielle 8000
Gabrielle 8008
Gabrielle 8008L
Gabrielle 9009
Gabrielle Cyclo
Gabrielle PFS
Gabrielle PFS 2
Imperial
Mercedes
Meteor II
Office Master 2000
Satellite 40
Satellite 80
Satellite 2001
Satellite 2002
Satellite 2015
Satellite II
Satellite III
Satellite IV
Satellite V
Satellite VI
Satellite Viii
SE 305
SE 310
SE 400
SE 400 DS
SE 400 M
SE 1005
SE 1005 XL
SE 1010
TRD 170
TRD 170 S
TRD 7020