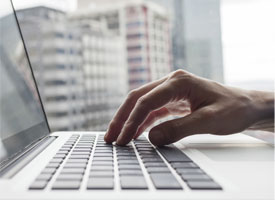 Buying Guide for Laptops & Desktops for Your Office
Laptops & desktops – things to consider.
Screen Size
14-inch or 15-inch – good choices for everyday tasks like checking e-mail, working in spreadsheets, writing documents or browsing the web.
13-inch or smaller – perfect if you're on the go because they're lighter and easier to carry around.
17-inch or larger – ideal when you're creating huge spreadsheets, presenting slideshows or playing games.
Touchscreen
To take full advantage of the latest Windows operating system experience, touch laptops are a must have. The latest Windows works just like your smart phone — you can touch, flick and type right on the screen.
Processor speed
The processor (or CPU) executes all the tasks your computer performs, from sending an e-mail to editing HD video. If you use your computer for simple tasks, like browsing online or using Word, a basic processor will suffice. But if you want to work on Excel spreadsheets, use Powerpoint, edit photos, stream HD content online and edit HD home videos on the weekend, then you will need a superior processor.
Basic

Intel®: Atom, Celeron
AMD: Turion II
AMD: C-series
Mid-Range

Intel®: Pentium, Core i3
AMD: Athlon II
AMD: E-series, A4
Superior

Intel®: Core i5, Core i7
AMD: Phenom II, Fusion A Series
AMD: A6, A8

Storage
Hard drive
The hard drive is where your computer stores your permanent data like the operating system, software programs, photos, videos, music and more. Hard drives range in size from 320GB to 2TB. For basic use, 500GB is fine. But if you've got folders and folders of photos, or if you plan on running lots of programs, choose at least 1TB.
SSD
SSD or "Solid-State Drives" are the latest technology in internal storage. They're smaller, lighter and faster than regular internal drives and have no moving parts so they're less susceptible to failure and help prolong battery life. Solid-State Drives can be found in the newest laptops, desktops and Ultrabooks.

Battery life
If you'll be working out of the office, choose a longer-lasting battery – some can last up to 9 hours. Also, heavy processing functions such as gaming and movies will drain your battery more quickly than writing a word document.
---

Laptop types
Everyday
Most laptops fall into this category and range from basic to high performance depending on the features you choose.

Ultrabooks
Ultrabooks are a step up from netbooks – they've got more processing power and more advanced features than netbooks (like fast Solid-State Drives) but are smaller and lighter than laptops. Some models come with an optical drive so you can watch DVDs.

Convertibles
Convertibles, also known as 2-1s, allow your laptop to be converted to other forms. Common forms include tent mode in which the monitor folds back about 225 degrees. There are also 360 convertibles in which the monitor flips back the full 360 degrees allowing the laptop to work more like a tablet. Lastly there are detachables in which you can literally pull the monitor off of the keyboard allowing you to have a very portable tablet.
Commercial PCs
Commercial laptops are usually more expensive than their consumer counterparts—they're generally of a higher build quality, meaning more metal and less plastic allowing them to take on more abuse before breaking. They also are free of manufacturer included software, which keeps your computer running quickly. Commercial laptops also change designs less frequently. This allows finding replacement parts much more accessible in the instance something does go wrong. Lastly, commercial laptops have an optional docking station allowing you to quickly plug in your laptop to multiple monitors, printers, and other accessories without having to replug in multiple USB cords. To read the full difference please read the full article by clicking here.
---

Desktop types
Tower PCs
The tower desktop is the most common PC and offers the greatest range of features. Lower-end desktops are usually less expensive than lower-end laptops while still offering basic everyday performance. Desktops offer the most connectivity options and are also highly expandable.

All-in-one
Rather than having a separate tower and monitor, all-in-one desktops combine these features into one space-saving design. Some have a touchscreen display, and many come with a wireless keyboard and mouse.
---

Shop by use
Consumer
Best for

Web browsing and other common tasks
Word processing and other basic applications
Managing MP3s and videos
Viewing and editing videos
Playing video games

Business grade
Features include:

No unwanted software preinstalled on the PC
More durable construction
Replaceable components for easier repair
Docking station compatible
---