Canon Printing Calculator (MP21DX)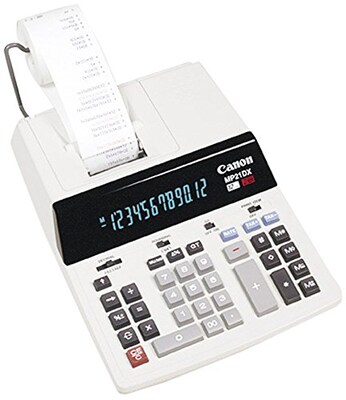 Description
Canon MP21DX Calculator offers fast, two-color printing that eliminates errors.
The Canon MP21DX Printing Calculator provides a large 12-digit display and a high-speed ink-ribbon printer. It has a four-key memory, and plugs into any standard outlet, never requiring batteries. Convenient features like the profit-margin function and tax-rate memory make work faster while ensuring consistent and accurate numbers.
Displays up to 12 digits

Prints 3.5 lines per second

4-key memory

Positive numbers print in black and negative numbers print in red, eliminating misreads

Rounding setting offers up/off/down modes for consistency

Decimal point settings switch offers + (add mode), 0, 2, 3, 4, 6, and floating position for consistent calculations

Shortcut buttons, including tax calculation tip, item count, cost-sell margin, and grand total save time

Powered by any standard AC outlet, eliminating the need for expensive batteries

Measures 3.7 by 9 by 12.2 inches (HxWxL) and weighs 4 pounds

Calculator will never run short on power while in use because it doesn't take batteries

Power source: AC

Display notation: Numeric, display type: Fluorescent

Memory: 4 key

Display angle: Fixed

Display characters height: 12 mm

Dimensions: 3.7"H x 9"W x 12.2"L

Replacement ribbon/roller: DPS-R3027

Replacement roll paper: UNV-35720

Ribbon/roller printer: Ribbon

Printing color: Positive numbers: Black, negative numbers: Red

Printing paper: Plain paper roll width 2 1/4" (57mm)

Printing speed: 3.5 lines per second

Tax calculation tip, sign change, item count, mark up down, memory, grand total

Usable temperature: 32 - 104 deg F

High speed, two color printing, quick and easy tax calculation

Printing calculator has all the functions you need to keep track of the complicated numbers in your life, monitor your finances, track inventory, and even calculate a tax liability with ease with this calculator's large display, four-key memory, and large

Large display screen shows up to twelve digits at a time to help you keep better track of your running tally, and the tape it prints out at more than three lines per second when you're done is perfect for checking your work

It doesn't even need an AC adapter like your other electronics, just plug it directly into the wall and run it on the normal house current as you would any appliance

Weight: 4 lbs.


Easy-to-Read Display Offers 12-Digit Readout for Accuracy
The Canon MP21DX Printing Calculator offers an easy-to-read fluorescent display. The large, fixed-angle screen shows up to 12 digits, providing accurate numbers for accounting.

High-Speed, Two-Color Printer Makes Work Go Faster
The Canon DX Printing Calculator features a high-speed printer that produces 3.5 lines per second, making fast printouts for documentation purposes. The dual-color ribbon prints negative numbers in red and positive numbers in black, eliminating errors caused by misreads.

Profit-Margin and Tax-Rate Features Save Time and Ensure Consistent Results
The Canon MP21DX Printing Calculator comes with a profit-margin feature which calculates selling price or discount based on desired profit margins. The tax-rate feature allows users to save rates that they frequently work with, saving time and ensuring that results are accurate and consistent.

Package Contents
Canon MP21DX Printing Calculator, paper roll, and instruction manual.

Specifications
Number of Digits Displayed

: 12+

Printing Calculator Speed

: 3 - 4 Lines per Second

Number of Colors

: 2

Printing Color Options

: Black and Red

True Color

: White

Color Family

: White

Brand

: Canon

Customizable

: No

Weight

: 4.78 lbs. per Each