ComplyRight™ State Labor Law Poster, California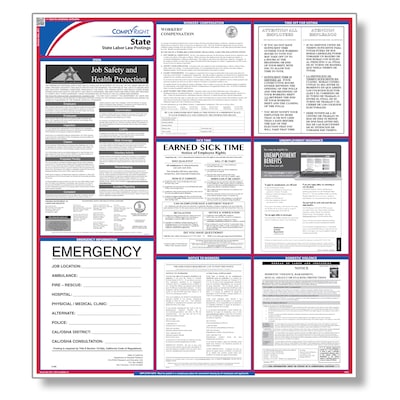 Description
ComplyRight "California" State labor law posters in easy-to-read format are developed by experienced legal team and designed to comply your business with state labor law posting requirements.
Get your business in compliance with the latest state labor law posting requirements. All-in-one, attorney-approved poster covers every mandatory employee-facing notice to streamline state posting compliance.
Developed and monitored by experienced legal team

100% compliant to ensure strict adherence to size, type font and layout requirements

Consolidated, easy-to-read format for maximum space efficiency

Laminated for added durability

Updated with the new California minimum wage (April 2014)

Updated with the most current California requirements

Convenient, all-in-one solution for meeting required state labor law postings

Required for all employers who have at least one paid employee

State poster must be displayed in a conspicuous location

Protect your company from non-compliance fines and potential lawsuits due to improper posting

Each state has its own posting requirement; your state poster may include: fair employment, minimum wage, worker's compensation, child labor and leave of absence

Lamination keeps posters clean and resistant to damage

Poster size: 27" x 39"

Picture shown is for visual sample and not of the actual product. Name of the state will vary.

Meet Compliance Requirements
Make sure you meet your business obligations to comply with state codes regarding the display of California labor laws by posting the ComplyRight state labor law poster. Designed with the expertise of a legal team and formatted to required standards, this poster fully meets your compliance requirements for labor law posting. Answer Employee FAQs
Give employees easy access and current answers to their most frequently asked questions regarding labor standards. The poster highlights the mandatory state-regulated information pertaining to minimum wage, child labor laws, workers' compensation guidelines, unemployment insurance, and fair employment dealing with worker exposure to specific infectious diseases. Easy to Read and Durable
The California ComplyRight state labor law poster is a durable one-piece compilation of essential labor laws presented in a clear and easily understood format. For added durability, this poster is laminated to protect against dirt, moisture, and repeated handling.
Specifications
Brand

: ComplyRight

Weight

: 0.72 lbs. per Each
State Poster Only

State & Federal Poster Kit

Save 10% when you buy the kit!

State & Federal Poster Subscription

FREE replacement shipped when your state poster changes for a full year!