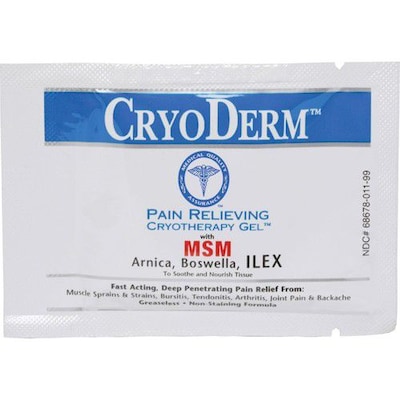 One-Time Purchase
IN-STOCK. Limited quantity
available 1 Remaining
Mix & Match
How Does It Work?
Buy more and Save when you Mix and Match different products below
Mix & Match Total (

0

item)
Item
Unit Price
Qty
Total Price
Add Items From the Left

Subtotal:

$00.00
Add to Cart
Description
CryoDerm Gel Packs - Suitable for soft-tissue injuries, joint and neurological pain
CryoDerm Gel Packs include arnica, boswellia, eucalyptus, ilex, menthol, MSM, peppermint oil, purified water and SD alcohol 39-C that provides fast relief from body pain. They are available in 1008/pack.
Pain Relief That Lasts, Colder Longer

Provides Relief From Back, Shoulder, Neck, Foot And Ankle Pain, Soreness, Sprains, Strains, Spasms, Cramps, Plantar Fasciitis, Arthritis, Bursitis, Tendonitis, And Joint Pain

for Chiropractic Care, Physical Therapy, Podiatric Care, Massage Therapy, Rehabilitation Exercises and Pre- and Post-Exercise

Ideal For When Soft-Tissue Injuries, Joint Pain, Neurological Pain and Neuropathy Are Present

Contains arnica, boswella, eucalyptus, ilex, menthol, MSM, peppermint oil, purified water and SD alcohol 39-C

1008 gel packets per case

5 grams per packet

Click For Additional Information
Specifications
Allergy Free

: No

Fluid Type

: Gel

Application Type

: Packets

Scented

: Yes

Purpose

: Cooling

Capacity (Volume)

: 177.78 oz

Features

: Ideal for when soft-tissue injuries, joint pain, neurological pain and neuropathy are present

Application/Usage

: Provides relief from back, shoulder, neck, foot and ankle pain, soreness, sprains, strains, spasms, cramps, plantar fasciitis, arthritis, bursitis, tendonitis, and joint pain

Quantity

: 1 Case

Brand

: CryoDerm

Weight

: 18.00 lbs. per Case