CTA® Digital WI-8SRB Nintendo Wii® 8-In-1 Sports Pack For Wii Sport Resort™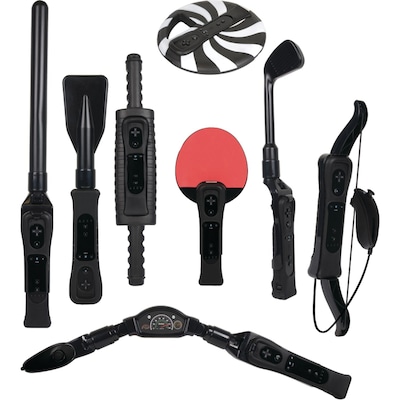 Description
8-in-1 Sports pack with lightweight plastic material assures that these accessories won't be a heavy burden on your arms, allowing you to enjoy lengthier playing time without tiring as quickly.
For Wii sport resort

Black

Plastic

Insert holds a Wii remote with or without protective silicone skin case

Ping paddle attachment, frisbee attachment, bow attachment

Row boat paddle attachment, wakeboard attachment, golf club attachment, plastic, sword attachment

Includes: 1 swordplay attachment, 2 canoeing attachment, 3 golf club attachment, 4 table tennis attachment, 5 frisbee attachment, 6 wakeboarding attachment, 7 archery bow attachment, 8 power cruising dashboard handle

Weight: 2.35 lbs.
CTA® Nintendo 8-in-1 sports pack includes golf club attachment for golfing and ping paddle attachment to hold the wii remote firmly. Sports pack is featured with bow attachment which includes elastic string to line up accurate shots.
Specifications
Brand

: CTA Digital

Weight

: 2.35 lbs. per Each