Dome Simplified Bookkeeping Software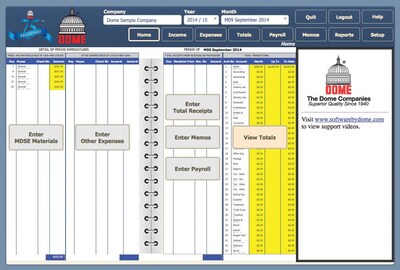 Description
This Dome bookkeeping software helps you keep simple income and expense records for your businesses
Duplicating the Dome Simplified Weekly or Dome Simplified Monthly Series, this bookkeeping software helps you stay on top of your company's affairs with weekly and monthly income and expense reports. Compatible with MACs, PCs and iPads, this system also allows you to keep up with the bookkeeping for numerous businesses, which helps you stay on top of your entire professional small business portfolio without having to use additional software programs.
Simplified bookkeeping software for iPad, PC and MACS

Operates on weekly or monthly subscription basis

Install software on your computer upon delivery to begin using the bookkeeping software immediately

Compatible with PCs, MACs and iPads for versatile use

Multi-company use lets you handle the bookkeeping for multiple businesses with ease

Simple tracking of income and expenses keeps your company on track

Follows the popular, easy to understand Dome Simplified Weekly or Dome Simplified Monthly books

Print out weekly or monthly reports quickly and easily
Track finances and maintain payroll records with Dome bookkeeping software. The bookkeeping software works across a range of operating systems to provide accurate weekly and monthly reports on company finances. The software switches to a subscription basis after the first year of use for convenience.

Perform Bookkeeping Tasks With Ease
This simplified bookkeeping software helps you efficiently complete bookkeeping tasks such as tracking income and expenses while also keeping simple payroll records. Depending on the business's schedule, the software can operate on a weekly or monthly basis for convenience. Once the data are entered, use the same software to automatically create and print reports for efficiency.

Compatible with Multiple Operating Systems
The subscription-based bookkeeping software includes the first year's subscription in the purchase price, allowing you to start using it immediately. The simplified bookkeeping software works on PC, Mac and iPad so it fits seamlessly with your existing computer systems. Bookkeepers with multiple clients can use the software to keep multiple companies' books for added convenience. The software is designed to follow on from the Dome Simplified Weekly and Dome Simplified Monthly books, making the transition simple for those products' users.




Specifications
Operating System

: Mac OS X

Business & Productivity Software Type

: Office Suites

Computer Software Format

: Download

Number of Licenses

: 1

Number of Users or Clients per License

: 1

Brand

: Dome

Customizable

: No

Weight

: 0.15 lbs. per Each