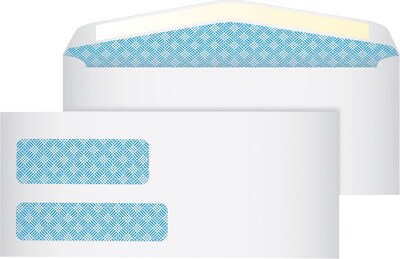 Quill Brand Gummed Security Tinted #9 Double Window Envelope, 3 7/8" x 8 7/8", White, 500/Box (75042)
Quill Brand Gummed Security Tinted #9 Double Window Envelope, 3 7/8" x 8 7/8", White, 500/Box (75042)
Item #: 901-75042
Model #: 75042-QCC
Brand: Quill Brand
Frequently bought together
Business envelopes are suitable for many mailing projects
Made from white 24 lb. paper for durability
Size: 3-7/8" x 8-7/8"
Gummed closure with commercial flap keeps contents in place
Security-tinted pattern helps to discourage reading sensitive information through the outside of the envelope
500 envelopes per box
Top window size: 1-3/16 x 3-1/2"; top window position: 3/8" from left edge, 5/8" from top
Bottom window size: 1 x 4"; bottom window position: 3/8" from left edge, 1/2" from bottom
1/2" between top and bottom window
Designed for laser invoices
Note: envelopes not compatible with paychecks printed by Quicken software
Quill Brand Double-Window Security Envelopes for Safe Mail
Slip promotional mailers, invoices, paychecks and correspondence into Quill Brand #9 double-window security envelopes for convenient mailing without the risk of leaking sensitive information. Printed addresses show through, while the security lining keeps everything else in the letter confidential. With 500 envelopes in the box, you have enough to cover all your mailing projects, big and small.
Streamline the Mailing Process
Your professional correspondence should include both the recipient's address and your return address on the cover letter. With double windows, those two addresses on the printed letter show through so you don't need to make additional labels or hand-address envelopes. The windows are clear plastic, keeping the letter safe without interfering with the readability of the addresses. Create a template for your office documents to line the addresses up with the filmview windows so you can fold, stuff and mail. Employees who handle bulk mailings for you can crank through the mailing list faster, leaving them to tackle other important projects.
Keep It Confidential
Whether you're sending a marketing campaign, a sensitive tax document or a private invoice, confidentiality is always critical. These Quill business envelopes take care of the privacy issue, so no sensitive information gets into unauthorized hands. The security pattern on the inside of the envelopes prevents any information from being visible through the envelope, so only the recipient knows what's inside the package. The V-flap closure comes gummed for easy moistening, and the flap stays stuck in place to keep the contents of the envelope in place.
Quill Brand
White
Gummed
Commercial
#9
100 Per Pack
3 7/8" x 8 7/8"
Double Window
Double-Left
8.875
Paper
500
24
Yes
Security Tinted
White
3.875