DreamGEAR® DGPS3-1339 Quad Charging Dock, PlayStation® 3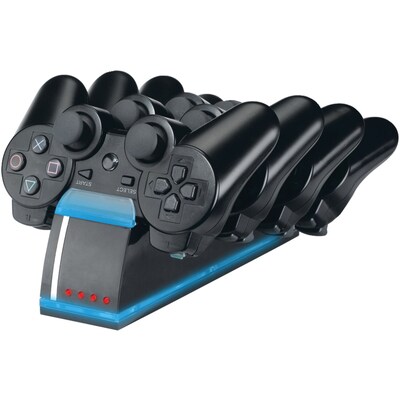 Description
DreamGEAR® Quad charging dock has four charging slots capacity of charging up to 4 PS3® controllers simultaneously. Comes with 110 -240 AC adapter for power supply.
The DreamGEAR® DGPS3-1339 quad charging dock provides custom red LED illumination for the best gaming experience. Discover LED charge indicator for each controller to indicate the charging status of your device. This charging dock measuring 50" x 5.25" x 3" is suitable for use with SIXAXIS® and dual shock 3 controllers. Designed to support handheld devices and works efficiently with 110 V AC input voltage.
Compatible with PS3 controller, SIXAXIS controller and dual shock 3 controller platforms

Dimensions: 9.5"H x 5.3"W x 3"L

Charges up to four controllers simultaneously for efficient usage

Visual illuminating red LED to enhance your mood

LED Charge indicator for each controller

Compact and sleek design for an attractive look

Includes 100/240 VAC adapter

Weight: 0.95 lbs.