Duracell® Copper Top 21/23 Alkaline Keyless Entry Battery, 4/Pack (MN21B4PK05)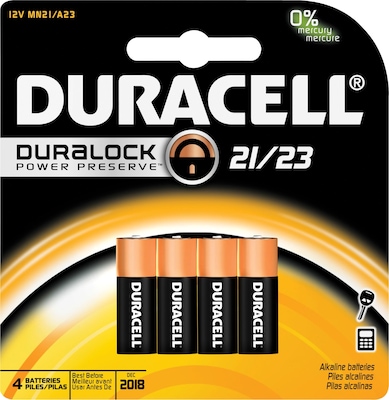 Description
Duracell 12V 21/23 alkaline batteries are a perfect fit for small devices such as hearing aids and keyless remote controls.
Duracell CopperTop 12V 21/23 alkaline batteries provide steady, long-lasting power to a wide spectrum of small devices such as car alarms, child location devices, FOBs, garage door openers, fitness trackers, glucose meters, GPS location devices, hearing aid devices, remote controls and several types of security systems. With a shelf life of seven years and a capacity to withstand extreme temperatures, this handy pack of four batteries is an ideal choice to power your small devices.
21/23 battery powers a variety of hearing aids

Delivers 12V for greater dependability

Alkaline batteries feature reliable power and long battery life

Package contains four batteries offering an economical price point

Manufacturer guarantees up to a 7-year shelf life for added confidence in your purchase

Mercury-free, supporting your firm's green initiatives

Operates in a wide range of temperatures, assuring your devices work even in the harshest weather

Is this the right battery for you?


Long Battery Life
Trust the steady, long-lasting power provided by Duracell to give big power to your small gadgets. Whether for work or for play, these 12V 21/23 alkaline batteries are the perfect power source for your fitness and medical devices, security and GPS systems, FOBs and garage door openers, hearing aids and more.

No Added Mercury
Be kind to the environment by choosing Duracell 21/23 batteries. These batteries contain no added mercury, which means you can rest assured that your used batteries aren't polluting landfills or water supplies with mercury.

Works in Extreme Temperatures
A garage door opener or FOB doesn't do much good if it doesn't work due to cold weather. Duracell 12V 21/23 alkaline batteries are designed to withstand extreme temperatures from -4 to 129 degrees Fahrenheit, meaning that your FOB, GPS tracker or hearing aid won't leave you out in the cold.


Specifications
Brand

: Duracell

Customizable

: No

Weight

: 0.11 lbs. per Pack