Enermax® EPM600AWT ATX12V Power Supply; 600W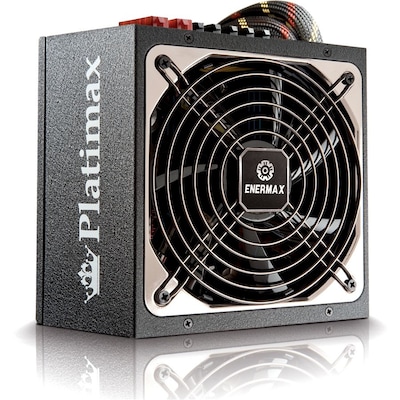 Description
Enermax Power Supply - Computer Power Supplies
The Enermax EPM600AWT Platinum certified internal power supply delivers 600 Watts of safe, reliable output for high-end computer systems. With its modular cable design, this power supply permits use of only the cables you need resulting in improved internal airflow and reduced system clutter. Featuring a unique twister bearing fan, this modular power supply creates heavy-duty airflow drawing heat away from the power supply enclosure. This power supply features advanced multiple protection circuits to secure your system against electrical damages. It features 105 degree Celsius Japanese electrolytic capacitors that meet component standards for maximum durability and stability.
Power supply is compatible with core 2, duo core 2, quad core i5/i3 Intel CPUs and Athlon II X2/X3/X4, Phenom II X2/X3/X4/X6 AMD CPUs

Dimensions: 3.4"H x 5.9"W x 6.3"D

Comes in black color

Connections: ATX, ATX12V, eight LP4, SP4, 8x, 4x, 24-pin main connector, 4 + 4-pin CPU, eight peripheral device, eight serial ATA, floppy drive

Input voltage: 100 - 240 VAC, 50/60 Hz, active PFC, Input current: 8 - 3.5 A, Power: 600 W, 660 W

Output voltage: 3.3/5/+12/-12 V, Output current: 0 - 20 A at 3.3/5 V, 0 - 25 A at +/-12 V, 0 - 2.5 A at 5 VDC

Technological breakthrough topology using a staged dynamic transformer array for extremely high efficient

Maximum compatibility with C6 and hybrid states of current and future CPU and GPU generations by zero load design

12P Modular design for possibly upcoming new CPU and GPU 10P and/or 12P connectors

Fixing the AC cord tightly to avoid accidental shutdowns of your PC

Keeping PSU fan running for 30-60 secs after shut down to dissipate the remaining system heat and prolong system lifetime

Advanced fuzzy logic fan speed control for optimal cooling and minimum noise

13.9 cm Twister-bearing fan with low noise and long lifetime

Temperature: 50 deg C ambient

Meets CE, RoHS, cUS standards and certifications

Efficiency: 89 - 94%

Operation temperature: 0 - 50 deg C
Compatibility
This Enermax power supply is compatible with Intel processors including the Core 2 quad-core and Extreme i5. You can also use it with AMD processors such as the Athlon 64X2 and Phenom II, so finding a compatible processor is simple.
Automatic Adjustments
This Enermax power supply uses an input voltage of 240 VAC, but it can also adjust to accept levels between 100 and 240 VAC if you're planning on traveling. This adjustment means that you can use this power supply no matter where you are around the globe.
Protection for Your System
This power supply has a full-scale electromagnetic filter that protects your computer from radiation interferences that could cause disruptions. The device also has protection against surges, too much or too little power, and short circuiting to keep you safe from an electric shock or fire.
Specifications
Power Supply Form Factor

: Internal

Depth (in.)

: 6.3"

Frequency (Hz)

: 50 - 60 Hz

Height (in.)

: 3.4"

Input Voltage

: 100 - 240 VAC

No. of Fans

: 1

No. of Rails

: 3

Output Voltage

: +3.3, +5, +/- 12 V

Protection Type

: Over Voltage, Over Current, Short Circuit, Over Power, Over Temperature, Output Under Voltage

Watts

: 600 W

Width (in.)

: 5.9"

Brand

: Enermax

Weight

: 1.00 lbs. per Each