Fellowes® Energizer™ Foot Support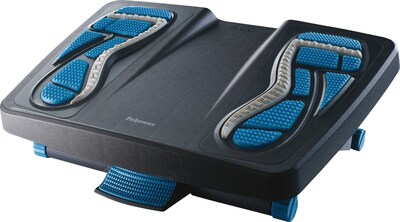 Description
The Fellowes®Energizer Foot Support features an invigorating rubber surface with diverse massage textures to target pressure points.
Reduce fatigue when working from a seated position by adding this Fellowes Energizer foot support to your workstation setup. This innovative foot support elevates your feet and legs, alleviating pressure on the lower back while you work, so you feel less tired and are more productive. The surface of the unit features rubber nubs to massage pressure points, while the free-floating design of the platform allows you to rock the unit, promoting the movement of the lower legs.
Foot support with targeted pressure point massage to alleviate lower back pain

Dimensions: 5.12" H x 17.87" W x 13.25" D

Unit elevates feet and legs, reducing low-back pressure and improving posture for added comfort

Platform with free-floating design for rocking motion to promote movement of lower legs

For massaging

Material: Rubber

Innovative rubber massaging textures relieve stress and rejuvenate tired feet

Improves posture, circulation and comfort

Scissor motion height adjustment provides 3 platform heights of 100 mm, 135 mm & 165 mm

Platform design encourages correct positioning of feet

Adjustable angle, rocking movement possible for optimum blood circulation

Design of the platform encourages correct foot positioning

Invigorating rubber surface with diverse massage textures targets pressure points

1-Year Limited Warranty


Enjoy Comfort and Support All Day
If you don't have adequate lumbar support at work, you can use a good foot and leg support to help relieve or prevent back pain. The Fellowes Energizer Foot Support elevates your legs and feet, which improves your posture, helps relieve low back pressure and encourages you to find a neutral sitting position. You can sit supported and work in comfort all day long.

Adjustable Free-Floating Platform Promotes Lower Leg Movement
The Energizer foot support features a free-floating platform with a natural rocking motion. Instead of having to stay still, you can move your lower legs naturally and in a way that doesn't interrupt your work. Featuring scissor-motion height adjustment with three platform height settings, it's easy to find your most comfortable position.

Supports Well Being
The Energizer foot support can help reduce fatigue and stiffness from sitting for long periods of time. Rocking the platform to move your lower legs and taking advantage of the pressure points stimulation helps increase circulation.


Specifications
Brand

: Fellowes

Weight

: 5.38 lbs. per Each