Fluke Networks® TS25D Telephone Test Sets with ABN Kit, Multicolor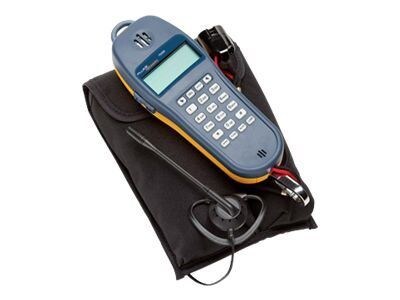 Description
Fluke Networks® 5501109 TS25D telephone test set has amplified speakers for hands-free monitoring and tone generator for wire identification. This multi-color test set with ABN kit has talk battery to power voice conversation on dry lines and liquid crystal display for easy to read.
Telephone test sets with ABN kit features data lockout and lockout override, making completely safe in talk or monitor mode

Conformite Europeenne, conforms to relevant European Union directives

Comes in multicolor (blue /yellow/black/red) color

Dimensions: 7.8"H x 2.7"W x 1.6"D

Return loss: >14 dB (ref 600 Ohms), DC Resistance: 150 Ohms nominal off-hook, >1 MOhms on-hook, AC impedance: 600 Ohms nominal, 300 - 3400 Hz off-hook

Pulsing rate: 10 pps + 1 pps, break/make ratio: 60/40, interdigit interval: >300 ms, resistance during break: >100 kOhms

Tone frequency error: + 1.5 % max, Tone level: -1 dBm combined (typical), High vs. low tone difference: 2 dB + 2 dB

Power: 9 V alkaline or lithium battery, Temperature range: 32 - 122 deg F operating, -40 - 150 deg F storage, Altitude: Up to 10,000'

Memory capacity: 10 speed dial memories plus one last number redial memory, digit capacity: 23 digits/memory, hook flash duration: 600 ms

Pause duration: 4 sec user programmable default, automatic speaker shut off duration: 5 min user programmable TS25D default, 2 min TS25D CO default

DSL/POTS filtering technology allows you to safely draw dial tone without downing DSL, a built-in analog tone generator simplifies wire identification

Includes pouch, earpiece

Weight: 10 oz.
Specifications
Brand

: Fluke Networks

Weight

: 1.00 lbs. per Each