GP Georgia-Pacific Professional Series™ C-Fold Paper Towels; 1-Ply, White, Convenient Size, 6 Packs/Case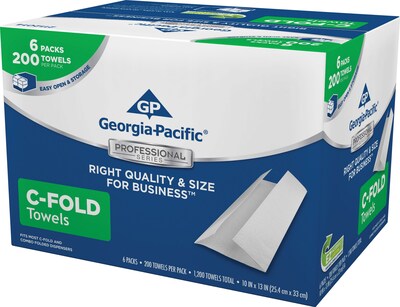 Description
GP Georgia-Pacific Professional Series™ C-Fold Paper Towels, 1-Ply, White, 1,200 Towels per Convenient Size Case
The innovators at Georgia-Pacific have developed the Small Business Professional Series - a convenient assortment of premium paper products created specifically for what small businesses need - RIGHT QUALITY & SIZE FOR BUSINESS™, all at the right price.  We want to help you manage your backroom, your budget and your expectations.  GP Georgia-Pacific Professional Series™ C-Fold Paper towels are packaged in our exclusive, color-coded perforated EZ Access carton designed for easy opening, accessing and storage.  The carton's smaller size makes handling easier and is designed for businesses where storage space is limited.

6 Packs/Case - 6 inner packs of 200 (1,200 towels per case).

Thick, absorbent 1-Ply embossed design is ideal for image-conscious office buildings, restaurants, lodging accommodations and healthcare facilities

Packaged in our exclusive color-coded perforated EZ Access® carton, designed for easy opening, accessing and storage.

White, 10.1" x 13.2" sheets with a 3.6" folded width

Works in most multi-fold or combo-folded towel dispensers

Meets the requirement of the Sustainable Forestry Initiative® chain of custody standard: 100% SFI Certified Sourcing.