HP® J9580A#ABA Redundant Power Supply; 1 kW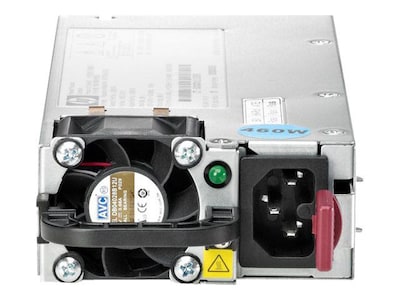 Description
The HP redundant power supply has 3 layers and features 1000 W power rating with a stackable switch type
HP Redundant power supply features input voltage of 100 - 240 V AC and output voltage of 54 V. Power supply has ethernet port, fast ethernet port, gigabit ethernet port with fan tray and rack mounting.
Input Voltage: 100 - 240 V AC

Output Voltage: 54 V DC

Number of Layers: 3

Type: Stackable switch

Package Contents: E3800-24G-PoE+-2SFP+ Layer 3 switch, 1 x power supply (J9580A ), 1 x fan tray (J9582A), rack mounting kit

Works with ethernet port, fast ethernet port, gigabit ethernet port
Standard Voltages
You can plug the HP redundant power supply into any standard or international outlet with an input power range between 100 and 240 volts AC. The steady output voltage is 54 volts DC, and the device provides 1,000 watts of power, which should be sufficient to keep your server up and running even if the main power supply fails.
Plug-In Module
The HP redundant power supply comes with a rack mounting kit to make installation simple. The power supply has stackable switches, which can operate alone or together, adding extra redundancy and reliability to reduce downtime. It contains its own cooling fan, so you don't have to worry about overheating that could lead to shutdowns or data loss.
Ethernet Support
Your network connection is protected when you use this HP redundant power supply because it has Ethernet support. The device works with fast Ethernet and gigabit Ethernet ports as well as regular Ethernet ports.
Specifications
Power Supply Form Factor

: Internal

Input Voltage

: 100 - 240 VAC

No. of Fans

: 1

Output Voltage

: 54 VDC

Watts

: 1000 W

Brand

: HP

Weight

: 1.00 lbs. per Each