>
>

HP 564 Cyan, Magenta & Yellow Original Ink Cartridges, 3 pack (N9H57FN)
HP 564 Cyan, Magenta & Yellow Original Ink Cartridges, 3 pack (N9H57FN)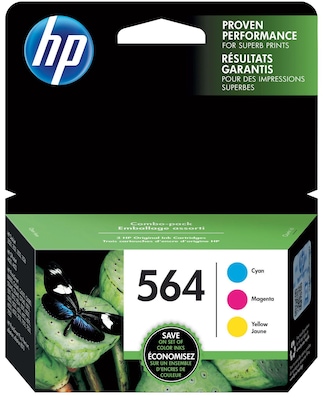 Description
HP 564 Color ink cartridges (N9H57FN#140) offer the finest quality and consistency for all your documents, projects, and presentations
HP 564 Cyan/magenta/yellow Color ink cartridges are designed to deliver the best image quality and reliable printing. Ink cartridges are compatible with HP thermal inkjet printers and yields up to 300 pages.
Yields up to 300 pages per cartridge.

Multi pack! Save up to 10% when you buy combo pack instead of individual cartridges.

Fade-resistant color provides superior results and brilliant, true-to-life images that last for generations· The unmatched reliability of original HP ink cartridges means consistent convenience and better value

High-quality cartridges print everything the way you wanted and are perfect for everyday printing applications

3 Pack includes (1) each Cyan, Magenta, Yellow print cartridge

OfficeJet

HP Photosmart D5460
Get everyday value with Original HP Ink Multipacks. With this HP 564 three-pack of cyan, magenta and yellow, get professional-quality color at a low cost per page. This HP 564 combo-pack is designed to provide consistent print quality throughout the life of your cartridge with HP smart technologies. This HP 564 combo pack is designed to work with your HP printer to deliver consistent and reliable results. Each cartridge yields up to 300 pages.
Specifications
Yield Type

: Standard

Cartridge Series

: HP 564

Page Yield (Up to)

: 300

Ink/Toner Color

: Multi color

Ink/Toner Pack Size

: 3/Pack

Ink/Toner Cartridge Type

: Original

Supply Type

: Ink

Wide Format Compatibility

: No

High Yield

: No

Multipack

: Yes

Brand

: HP

Weight

: 1.00 lbs. per Pack
Compatible Printers
This product is compatible with these printers:
HP
PhotoSmart D5460
PhotoSmart D7560
PhotoSmart C6380
PhotoSmart C5380
PhotoSmart B8550
PhotoSmart D5445
PhotoSmart Premium Fax
PhotoSmart C6350
PhotoSmart C6340
PhotoSmart Plus - B209a
PhotoSmart Premium Touch WebSmart
PhotoSmart Premium C309a
PhotoSmart Premium C309c
PhotoSmart C5324
PhotoSmart C5370
PhotoSmart C5373
PhotoSmart C5383
PhotoSmart C5388
PhotoSmart C5390
PhotoSmart C5393
PhotoSmart C6324
PhotoSmart C6375
PhotoSmart C6383
PhotoSmart C6388
PhotoSmart D5463
PhotoSmart D5468
PhotoSmart C5300 Series
PhotoSmart C6300 Series
PhotoSmart D5400 Series
PhotoSmart Pro B8553
PhotoSmart Pro B8558
PhotoSmart Pro B8550 Series
PhotoSmart Plus e-All-In-One
PhotoSmart Premium e-All-In-One - C310b
PhotoSmart Premium Fax e-All-In-One
PhotoSmart Premium C309g
PhotoSmart Premium e-All-In-One - C310a
PhotoSmart Plus e-All-In-One - B210
PhotoSmart Plus e-All-In-One - B210a
PhotoSmart Premium Fax e-All-In-One-C410
PhotoSmart eStation e-All-In-One - C510
PhotoSmart 5510 e-All-in-One - B111a
PhotoSmart 6510
PhotoSmart 7510
PhotoSmart 5511 e-All-in-One - B111j
PhotoSmart 5512 e-All-in-One - B111a
PhotoSmart 5514 e-All-in-One - B111h
PhotoSmart 5515 e-All-in-One - B111a
PhotoSmart 6510 e-All-in-One - B211a
PhotoSmart 6512 e-All-in-One - B211a
PhotoSmart 6515 e-All-in-One -- B211a
PhotoSmart 7510 e-All-in-One - C311a
PhotoSmart Plus e-All-In-One - B210b
PhotoSmart Plus e-All-In-One - B210c
PhotoSmart Plus e-All-In-One - B210d
PhotoSmart Plus e-All-In-One - B210e
PhotoSmart Premium Web - C309n
PhotoSmart Premium e-All-In-One - C310c
PhotoSmart 7515 e-All-in-One - C311a
OfficeJet 4620 e-All-in-One
OfficeJet 4622 e-All-in-One
PhotoSmart 5520 e-All-in-One
PhotoSmart 6520 e-All-in-One
PhotoSmart 7520 e-All-in-One
DeskJet 3520 e-All-in-One
PhotoSmart 5522 e-All-in-One
PhotoSmart 5525 e-All-in-One
PhotoSmart 5524 e-All-in-One
DeskJet 3521 e-All-in-One
DeskJet 3522 e-All-in-One
PhotoSmart 6525 e-All-in-One
PhotoSmart 7525 e-All-in-One
PhotoSmart D7500 Series
PhotoSmart All-in-One B109
PhotoSmart All-in-One B110
PhotoSmart Premium C309n
PhotoSmart Premium C310a
PhotoSmart Premium C410b
PhotoSmart 5515 e-All-in-One - B111h
PhotoSmart All-in-One B010
DeskJet 3070A e-All-in-One B611a
PhotoSmart B8850
PhotoSmart D5430