>
>

HP 564XL Black Ink Cartridge, High Yield (CN684WN#140)
HP 564XL Black Ink Cartridge, High Yield (CN684WN#140)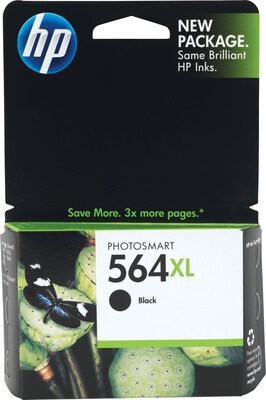 Description
The HP 564XL (CN684WN), high-yield black ink cartridge saves time and money
With its high-yield design, the HP 564XL black ink cartridge can help you go longer between print cartridge replacements. It is designed specifically for high-volume output, so you can minimize project downtime. Plus, since it is made for HP printers, the cartridge installs in minutes without the use of special tools.
Maximize your page yield - up to 550 pages per cartridge

What's in the box: One HP 564XL ink cartridge (HP part number: CN684WN)

Save time and money when you buy the HP 564XL black and color 5-pack instead of this single cartridge

These convenient individual ink cartridges can be replaced one at a time as needed

Designed for high volume output, these high-capacity ink cartridges yield more pages and need fewer replacements compared to standard HP ink cartridges

HP 564 ink cartridge works with: HP Deskjet 3520, 3521, 3522, 3526. HP Officejet 4610, 4620, 4622.

HP Photosmart D7560, 5510, 5512, 5514, 5515, 5520, 5525, 6520, 6525, 7510, 7515, 7520, 7525, C5324, C6340, C6350, C510a, B209a, B210a, C309g, C310a, C410a, C309n, B8550.

80% of original HP ink cartridges contain recycled HP cartridges, bottles or hangers.

Got a question? Give us a call and we'll help! Call 1-800-789-1331.
HP 564XL Black Ink Cartridge Offers High-Yield and Bold Ink

Save your office money while still producing outstanding, clear documents with this HP 564XL high-yield black printer ink cartridge.

The HP 564XL high-yield black printer ink cartridge enables your employees to produce bold, highly-readable business documents for office use and for customers. The ink is long lasting to save your office time and money, all while ensuring consistent quality with each print. The ink cartridge works for select HP printers.

Quality Printing While Saving Money

The HP high-yield black printer ink cartridge goes on strong, creating crisp, life-like images that bolster your business's credibility, and which are sure to keep your office patrons and customers coming back again and again. It also helps your office keep more money in the budget, saving it up to 13 percent per page when compared to standard cartridges. The ink works great for printing business memos, financial statements, marketing material and even photographs.

Provides a High-Yield

Use the HP high-yield black printer ink cartridge to get a yield of up to 550 pages, all while giving your office a long lasting supply of ink that provides consistent color with each print throughout the cartridge life. The final prints are also fade-resistant, and so are perfect for documents you plan on keeping around for a long time.

Easy to Install

The HP high-yield black printer ink cartridge is incredibly easy for you or your employees to install in your HP printer, and it does not require any special tools. This ensures that you can have your HP ink cartridge up and running in no time to start printing.

Specifications
Yield Type

: High Yield

Cartridge Series

: HP 564

Page Yield (Up to)

: 550

Ink/Toner Color

: Black

Ink/Toner Pack Size

: 1/Pack

Ink/Toner Cartridge Type

: Original

Supply Type

: Ink

Wide Format Compatibility

: No

High Yield

: Yes

Multipack

: No

Brand

: HP

Weight

: 0.13 lbs. per Each
Compatible Printers
This product is compatible with these printers:
HP
PhotoSmart D5460
PhotoSmart D7560
PhotoSmart C6380
PhotoSmart C5380
PhotoSmart B8550
PhotoSmart D5445
PhotoSmart Premium Fax
PhotoSmart C6350
PhotoSmart C6340
PhotoSmart Plus - B209a
PhotoSmart Premium Touch WebSmart
PhotoSmart Premium C309a
PhotoSmart Premium C309c
PhotoSmart C5324
PhotoSmart C5370
PhotoSmart C5373
PhotoSmart C5383
PhotoSmart C5388
PhotoSmart C5390
PhotoSmart C5393
PhotoSmart C6324
PhotoSmart C6375
PhotoSmart C6383
PhotoSmart C6388
PhotoSmart D5463
PhotoSmart D5468
PhotoSmart C5300 Series
PhotoSmart C6300 Series
PhotoSmart D5400 Series
PhotoSmart Pro B8553
PhotoSmart Pro B8558
PhotoSmart Pro B8550 Series
PhotoSmart Plus e-All-In-One
PhotoSmart Premium e-All-In-One - C310b
PhotoSmart Premium Fax e-All-In-One
PhotoSmart Premium C309g
PhotoSmart Premium e-All-In-One - C310a
PhotoSmart Plus e-All-In-One - B210
PhotoSmart Plus e-All-In-One - B210a
PhotoSmart Premium Fax e-All-In-One-C410
PhotoSmart eStation e-All-In-One - C510
PhotoSmart 5510 e-All-in-One - B111a
PhotoSmart 6510
PhotoSmart 7510
PhotoSmart 5511 e-All-in-One - B111j
PhotoSmart 5512 e-All-in-One - B111a
PhotoSmart 5514 e-All-in-One - B111h
PhotoSmart 5515 e-All-in-One - B111a
PhotoSmart 6510 e-All-in-One - B211a
PhotoSmart 6512 e-All-in-One - B211a
PhotoSmart 6515 e-All-in-One -- B211a
PhotoSmart 7510 e-All-in-One - C311a
PhotoSmart Plus e-All-In-One - B210b
PhotoSmart Plus e-All-In-One - B210c
PhotoSmart Plus e-All-In-One - B210d
PhotoSmart Plus e-All-In-One - B210e
PhotoSmart Premium Web - C309n
PhotoSmart Premium e-All-In-One - C310c
PhotoSmart 7515 e-All-in-One - C311a
OfficeJet 4620 e-All-in-One
OfficeJet 4622 e-All-in-One
PhotoSmart 5520 e-All-in-One
PhotoSmart 6520 e-All-in-One
PhotoSmart 7520 e-All-in-One
DeskJet 3520 e-All-in-One
PhotoSmart 5522 e-All-in-One
PhotoSmart 5525 e-All-in-One
PhotoSmart 5524 e-All-in-One
DeskJet 3521 e-All-in-One
DeskJet 3522 e-All-in-One
PhotoSmart 6525 e-All-in-One
PhotoSmart 7525 e-All-in-One
PhotoSmart D7500 Series
PhotoSmart All-in-One B109
PhotoSmart All-in-One B110
PhotoSmart Premium C309n
PhotoSmart Premium C310a
PhotoSmart Premium C410b
PhotoSmart 5515 e-All-in-One - B111h
PhotoSmart All-in-One B010
DeskJet 3070A e-All-in-One B611a