Justick® 48"W x 36"H Electro-Adhesion Write/Display/Interact Dry-Erase Whiteboard (JL507-S)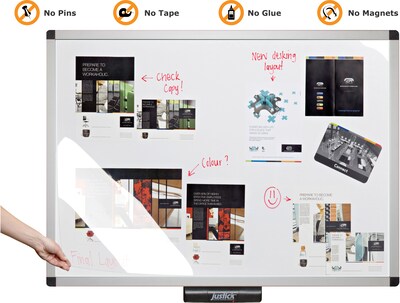 Description
This dry erase whiteboard features an electro-adhesion surface to hold and display printed materials
Encourage creative collaborations and brainstorming with this Justick dry erase whiteboard. The whiteboard features a special electro-adhesion surface that lets you stick on magazine cut-outs, brochures or other printed materials without any glue, magne ts or pins. A clear dry-erase/wet-erase overlay covers the whiteboard, allowing you to write and draw over the entire surface without damaging your display materials. To add new items, simply lift up the overlay and stick them in place. The lightweight aluminum frame mounts to walls for easy use.
WRITE - ClearView dry-erase overlay will not ghost or stain. Works with all dry-erase and wet-erase markers.

DISPLAY - Simply lift the ClearView overlay and place notices, illustrations, brochures etc. on the Justick® Electro-Adhesion surface. No pins, tape, glue or magnets required.

INTERACT and collaborate - Write on the ClearView overlay without damaging or marking the displayed materials. Erase and start over or take a photo and email colleagues.

CUSTOMIZE - hold custom printed templates on the electro-adhesion surface, then write on the ClearView overlay. Free templates available on-line or create your own - any size.

Powered by 4 AA batteries (sold separately)

Indicator light for battery replacement (about 12 months)

Premium aluminum frame, lightweight and easily mounted to variety of wall surfaces (mounting hardware included)

Marker/eraser tray included

Optional AC Adapter (sold separately)

Whiteboard features an electro-adhesion surface for mounting printed materials and a dry-erase overlay for writing

Measures 36"H x 48"W

Lightweight aluminum frame mounts on walls for flexible use

Built-in tray holds markers and erasers for convenient storage

Includes whiteboard with ClearView overlay and mounting hardware

Custom templates are available online to create your own polished presentations

Justick® electro-adhesion surface is powered by four AA batteries or an AC adapter (both sold separately)

Indicator light shows when batteries need replacing (batteries last about 12 months with typical use)
This interactive Justick dry-erase whiteboard is an excellent addition to any professional setting. Post notices and bulletins, and use the clear overlay to interact with and update your items without damage. This 48-inch-wide dry-erase whiteboard is large enough to be the focal point of a training or conference room, or to be put in the break room to display important information.

Interactive Whiteboard
This innovative triple-function dry-erase board is an interactive bulletin board that is perfect for conference or training rooms. Use the Justick® electro-adhesion surface to post notices, to-do lists and bulletins without the need of tape, magnets or pins. The ClearView dry-erase overlay allows you to write without damaging the posted materials, so you can update lists, explain concepts and create timelines. The high-quality overlay won't ghost or stain, giving you a clean slate every time. Keep markers and an eraser near at hand with the included tray.

Quality Construction
The Justick dry-erase whiteboard has a quality construction that is built to last. The whiteboard surface is surrounded by a premium aluminum frame, giving it a professional look, and the unit is easily mounted to the wall with the included mounting hardware. This dry-erase whiteboard is powered by four AA batteries, and a handy indicator light lets you know when the batteries need to be changed.




Specifications
Brand

: Justick

Weight

: 0.56 lbs. per Each