La Crosse Technology® 5" Comfort Meter With In/Out Temperature & Humidity
Brand:
La Crosse Technology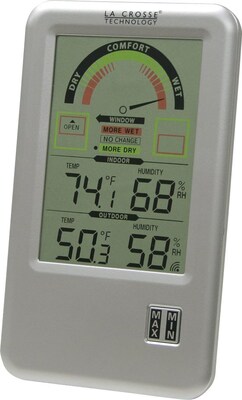 Description
The beige La Crosse Technology WS-9170U-IT-CBP Digital Indoor Comfort Station compares the indoor and outdoor weather conditions and recommends opening or closing of the windows to maintain optimal indoor conditions.
Control humidity levels in your home with the La Crosse Technology Comfort Meter. This comfort meter comes with a temperature and humidity sensor that needs to be attached outdoors. The temperature and humidity sensor wirelessly transmits the weather co nditions to the indoor station. This station also takes indoor readings with its in-built temperature and humidity sensor.
Transmission range up to 330 ft

Humidity scale has 5 levels ranging from dry to wet

Indicator for opening and closing windows

Detects outdoor temperature ranging from -39.9 deg. C to 59.9 deg. C and humidity from 1% to 99%

Detects indoor temperature ranging from -9.9 deg. C to 59.9 deg. C and humidity from 20% to 95%

Can be hanged on wall or kept standing

Dimensions: 6.18"H x 3.72"W x 0.78"D (Receiver), 4.03"H x 1.41"W x 0.62"D (Sensor)

Requires 2 AAA alkaline batteries (not included) for receiver & 2 AAA alkaline batteries (not included) for sensor

Digital comfort meter with 350' range

Battery type: 4 "AAA" alkaline batteries

Battery life: 8765.81 hr

Comfort/dry: 35 40 %RH

Dimensions: 3.72" x 0.78" x 6.18" receiver, 5.05" x 1 1/2" x 0.83" sensor

IN/OUT humidity (%RH) with MIN/MAX records

Comfort/ideal: 41 55 %RH

Outdoor humidity range: 1 to 99%, Indoor humidity range: 20 to 95%

Indoor temperature range: 14.1 deg F to 139.8 deg F (10 deg C to +59.9 deg C), outdoor temperature range:39.8 deg F to +139.8 deg F (39.9 deg C to +59.9 deg C)

window status icons, and indoor and outdoor temperature and humidity display

Comfort/wet: 56 64 %RH

Wall hanging or free standing

Wet: above 65% RH
Specifications
Brand

: La Crosse Technology

Weight

: 0.75 lbs. per Each