Multi-purpose Laser 3-up Check; Blue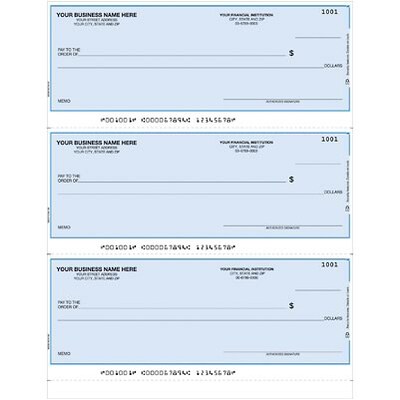 2 FIVE HUNDREDS = 1 THOUSANDS
Description
3 checks on a page with no stub

Save paper with voucherless checks

Compatible with QuickBooks, Quicken & Microsoft Money

Lined

Up to 4 lines of customer copy and up to 3 lines of bank information in black ink

Size: 8-1/2 x 11" overall; 3-1/2 x 8-1/2" check only

Pre-printed endorsement area on the back of every check
Multipurpose Laser 3-up Checks Save Paper and Money
Use these multipurpose laser three-up checks to print payments to vendors and staff. Each page produces three checks without a stub, saving paper and printing.
If you don't need a paper voucher for your company records, order these multipurpose laser three-up checks to save paper and money on printing costs. Featuring a blue background, these checks present a professional-looking image for your company.
Designed for Easy Usage
On the back of each of these checks is a pre-printed endorsement area so that your suppliers and employees can easily add their own bank information and signature to deposit the check. With three lines for your financial institution and four for customer information, you don't need to leave off essential information or abbreviate items, including addresses, bank names and company names. These checks don't require the purchase of additional software, as they are designed to work with the most commonly used programs.
Specifications
Form Type

: Laser Checks

Format

: 3-Up Check

Color

: Blue

Sheet Size

: 8-1/2x11"

Number of Parts

: 1

Paper Weight

: 24 lb.

Quantity

: 500

Personalization

: Yes

Brand

: Quill Brand

Weight

: 20.00 lbs. per Thousands