Multi-purpose Laser Middle Check; Grey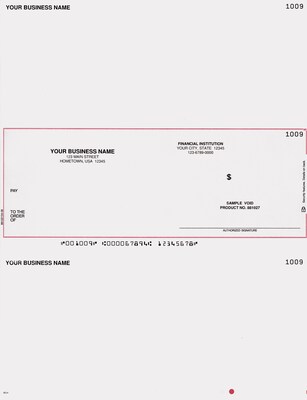 2 FIVE HUNDREDS = 1 THOUSANDS
Description
The flexibility to do both accounts payable and payroll

Ideal for managing only one checking account

Compatible with a wide variety software programs

Up to 4 lines of customer copy and up to 3 lines of bank information in black ink

Size: 8-1/2x11" overall; 3-1/2x8-1/2" check only

Pre-printed endorsement area on the back of every check
Multi-purpose Laser Middle Checks for Payroll and Purchases
Run these Quill multi-purpose laser middle checks through your printers to handle accounts payable and payroll. These handy checks include dual voucher stubs.
Opt for these grey Quill Brand multi-purpose laser middle checks when you want to handle payroll and accounts payable from a single checking account. These checks are fully customizable and include a pre-printed endorsement section on the back.
Simplifies Your Accounting
Handle your payroll and accounts payable with one type of check when you use these multi-purpose checks with your single checking account. The open stubs on either side allow you to add payroll or payment details, and the double stubs give both your company and the payee a record of the payment.
Easy to Customize
Customize these versatile checks with your company name and bank information to present a fully professional look. These checks work seamlessly with most financial and check-writing software programs to speed up your payment process.
Specifications
Form Type

: Laser Checks

Format

: Middle Check

Color

: Grey

Sheet Size

: 8-1/2x11"

Number of Parts

: 1

Paper Weight

: 24 lb.

Quantity

: 500

Personalization

: Yes

Brand

: Quill Brand

Weight

: 20.00 lbs. per Thousands