Multi-purpose Laser Top Check; Blue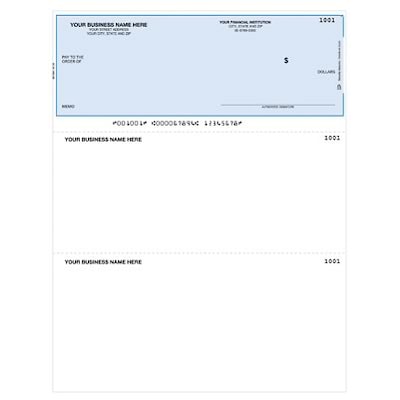 2 FIVE HUNDREDS = 1 THOUSANDS
Description
The flexibility to do both accounts payable and payroll

Ideal for managing only one checking account

Compatible with a wide variety software programs

Up to 4 lines of customer copy and up to 3 lines of bank information in black ink

Size: 8-1/2x11" overall; 3-1/2x8-1/2" check only

Pre-printed endorsement area on the back of every check

Compatible with QuickBooks, Quicken & Microsoft Money
Multi-Purpose Laser Top Checks Handle Payments to Vendors
Keep these easy-to-use multi-purpose laser top checks on hand for your accounting department to pay vendor invoices and employee payroll.
Provide your accounting department with these multi-purpose laser top checks in blue so that they can tackle the weekly payroll or cut a check quickly for a waiting vendor. The bold blue shade identifies the check and receipts so that your employees can deposit it in their banks.
Easy to Use Laser Print Checks
These multi-purpose checks are easy to print from a variety of compatible accounting software programs so that your company doesn't need to download or purchase any specialty programs. A pre-printed endorsement area on the back of the checks takes the guess work out of where to sign, saving your employees a lot of hassle at the bank. With three lines for bank information and four lines of customer copy, these checks provide all of the essential information and then some.
Specifications
Form Type

: Laser Checks

Format

: Top Check

Color

: Blue

Sheet Size

: 8-1/2x11"

Number of Parts

: 1

Paper Weight

: 24 lb.

Quantity

: 500

Personalization

: Yes

Brand

: Quill Brand

Weight

: 20.00 lbs. per Thousands