Multi-purpose Laser Top Check; Yellow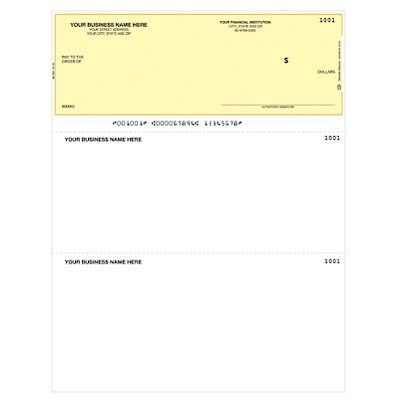 2 FIVE HUNDREDS = 1 THOUSANDS
Description
The flexibility to do both accounts payable and payroll

Ideal for managing only one checking account

Compatible with a wide variety software programs

Up to 4 lines of customer copy and up to 3 lines of bank information in black ink

Size: 8-1/2x11" overall; 3-1/2x8-1/2" check only

Pre-printed endorsement area on the back of every check
Multi-purpose Laser Top Checks Handle Payments and Payroll
Print your company's outgoing payments and payroll on these quality multi-purpose laser top checks. These checks are ideal for managing a single account.
Use these multi-purpose laser top checks to handle all of your company's payroll and accounts payable in one easy step. These checks are compatible with a wide variety of payment processing software. Print up to four lines of company text and three lines of bank text on each check.
Bulk-sized Pads for Convenience
Order checks in quantities of 500 per pad, allowing you to place orders less frequently without running out. Help your accounting department fulfill larger numbers of accounts payable, outgoing payments and payroll checks.
Quality Weight for Sturdy Checks
These checks are printed on high-quality, 24-pound weight paper for a paper product that feels substantial in the hands and wallets of your employees and clients. Avoid handing out thin checks that tear or wrinkle easily, delaying payment processing.
Specifications
Form Type

: Laser Checks

Format

: Top Check

Color

: Yellow

Sheet Size

: 8-1/2x11"

Number of Parts

: 1

Paper Weight

: 24 lb.

Quantity

: 500

Personalization

: Yes

Brand

: Quill Brand

Weight

: 20.00 lbs. per Thousands