Lathem Touch Screen Time and Attendance System (PC600)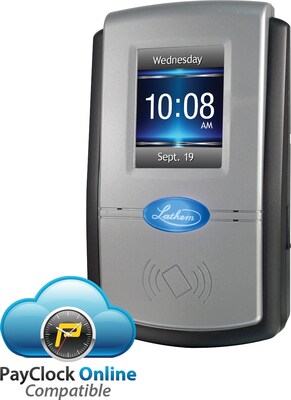 Description
Lathem time attendance clock streamlines tracking employees' attendance
This time attendance clock makes records of hours worked easily accessible to both employees and supervisors. Employees clock in with a simple tap of a proximity badge or by using the full-color touch screen to enter a PIN. The touch screen of this Lath em time attendance clock also allows supervisors to access records easily, making it simple to edit times or add new employees to the system. This time clock handles records for up to 50 employees, expandable to 1,000 employees for large or growing busi nesses. PayClock software is included with this time attendance clock for simple records management.
Punch card time clock keeps track of records for up to 50 employees, expandable to 1,000 for growing businesses

4.75" W x 8" H x 2" D, 0.8 pound

LCD color touch screen interface for simple and intuitive use

Includes functions allowing supervisors to edit employees' punches, send messages, and control overtime

Connects to LAN via Ethernet to synchronize real-time data with PayClock software

Includes built-in lithium battery that stores backups of all records for up to 8 years
Track employee time simply and effectively with this touch screen clock from Lathem. The versatile clock gives you the tools you need to handle payroll and schedule management, and each clock features an easy-to-read LCD display along with multiple proximity badges for quick setup and use.

Easy to Use
The LCD clock on the front of the time attendance device displays the time so users know exactly when they clock in and out, and each touch screen clock requires only a simple tap with a proximity-enabled badge to log information. The basic setup can handle information on up to 50 employees and expand for up to 1,000 when the need arises.

Includes Software
Each Lathem time attendance clock comes with intuitive PayClock software that simplifies editing time information and exporting or storing important records. The system makes department transfers and tip entry quick and easy and allows you to customize the timekeeping process to work with key fobs or PINs as well as proximity badges.

Battery Backup
The time attendance clock features a sturdy battery backup that stores up to 8 years of timekeeping information for future use. This backup helps prevent losses in the case of power outages and allows you to quickly access key information.


Specifications
Color

: Gray

Number of Employees

: 50

Number of Employees Supported

: Up to 50

Time Clock Mounting

: Wall Mounting

Time Clock Type

: Punch Card

Depth in Inches

: 2

Height in Inches

: 8

Width in Inches

: 4.75

Brand

: Lathem

Weight

: 2.00 lbs. per Each