Norton Type 27 NorZon Plus Depressed Center Grinding Wheels, 8600 rpm, 7"X1/8"X5/8-11"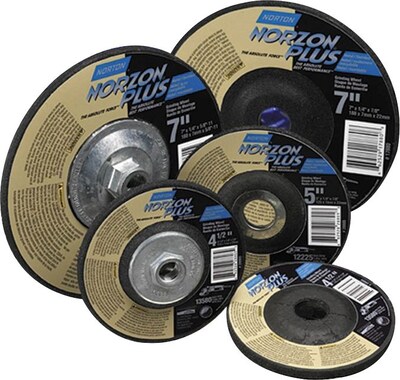 Description
NorZon® Plus Ceramic Alumina/Zirconia Alumina Type 27 Grinding Wheel is designed to withstand aggressive foundry application.
NorZon® Plus 7" OD x 1/8" Type 27 Grinding wheel with arbor size of 5/8"-11 is made of ceramic alumina/zirconia alumina for durability. Wheel with rotating speed of 8600 is used to cut materials like metal, steel, stainless steel and iron.
Diameter: 7 in

Thickness: 1/8 in

Arbor size: 5/8-11

Abrasive material: Ceramic alumina/zirconia alumina

Speed: 8600 rpm max

Withstands the most aggressive foundry application

Unique, patented mini-mount for 4 1/2 in wheels

Applicable materials: Metal, steel, stainless steel, exotic alloys, iron

50 to 200% better overall performance vs. competitive zirconia and ceramic wheels

Easy on the operator and equipment

Long life notche

Best tier
Specifications
Material

: Ceramic Alumina/Zirconia Alumina

Speed

: 8600 rpm Max

Diameter

: 7 in

Thickness

: 1/8 in

Arbor Size

: 5/8-11

Mounting Type

: Threaded Hole

Brand

: Norton

Weight

: 1.00 lbs. per Each