Plantronics® M12 Amplifier Cable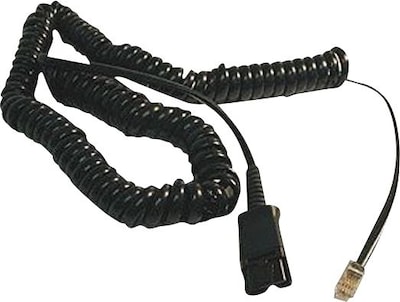 Description
Connects any H-Series headset with quick-disconnect plug to compatible Plantronics® (M12, M10 or MX10) amplifiers or phones with compatible headset ports
Optimize your call center team's performance with this Plantronics U10 amplifier cord. This coiled cord works with Cisco 7900 series phones for a direct connection that delivers crystal clear audio quality when you need it most. The cord is designed to connect any H-series headset with a quick-disconnect plug. Connect any coiled cord compatible Plantronics amplifiers or phones with headset ports to take all the stress out of speaking on the phone for long hours, and see the rise in performance levels in your office.
Mouse pad features dedicated wrist rest

Durable vinyl pad, providing a rigid base for fast and accurate mouse movement

38 mm (H) x 238 mm (W) x 337 mm (D)

Blue/Black

Features a ventilation channel to keep hands cool and dry and has an easy wipe-clean finish

Gel pillow matches natural curve of wrist and hand for comfortable computing

Molds itself to your wrist shape for complete comfort and support

Non-slip base keeps pad in place

Non-reflective mousing surface for optimum mouse performance


Direct Connection
When this Plantronics U10 amplifier cord is paired with any phone in the Cisco 7900 series, it enables a direct connection, ensuring a quick, hassle-free, and convenient start to communication.

Versatile and Widely-compatible
The Plantronics U10 amplifier cord can be connected to any H-series headset with a quick-disconnect plug. It works well with all Plantronics amplifiers or phones that have headset ports and are compatible with coiled cords. This makes the Plantronics amplifier cord easy to use and eliminates the need to purchase separate cords for different phones.

Clear Audio
The Plantronics U10 amplifier cord is a quality product that offers clear audio every time, allowing for stress-free communication without any interruptions, even during long conversations. This effectively boosts the performance of call center employees and other professionals whose jobs require them to talk on the phone for hours.


Specifications
Brand

: Plantronics

Weight

: 0.50 lbs. per Each