Pyle Compact Bluetooth Power Amplifier (PFA220BT)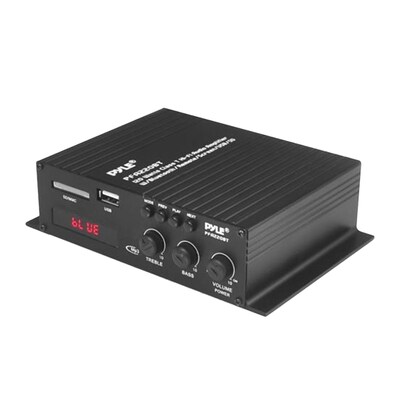 Description
The Pyle Mini Blue Series stereo amplifier provides compact power up to 120 Watts (60 Watt x 2 @ 4 Ohm). Built-in Bluetooth technology allows you to instantly stream wireless audio from your favorite devices -- quickly and easily. This mini power amplifier also features USB flash and SD memory card readers with digital LCD display. Connect external devices using the RCA (L/R) or AUX (3.5mm) stereo input connector jacks -- and let the music play! It's compatible with virtually any audio or computerized device (works with iPhones, Androids, Smartphones, iPods, MP3 Players, iPads, Tablets, Computers, etc.). Additional features include USB charging port, built-in short circuit and power surge protection, master volume control, push-type speaker terminals and more. Enjoy compact and powerful wireless amplifier music streaming ability with the Pyle Mini Blue Series Bluetooth Amp (Model: PFA220BT). Compact and Powerful Mini Amplifier SystemBuilt-in Bluetooth for Wireless Audio StreamingMP3 Digital Audio File PlaybackSD Memory Card & USB Flash Drive ReadersUSB Port Doubles as Device Charge PortDigital LCD Display Panel with Touch Button ControlsAUX (3.5mm) Input Connector JackRCA Audio Inputs (L/R)Connect & Stream Audio from External Devices1/4'' Microphone Input JackPush-Type Speaker L/R TerminalsTreble, Bass, Master Volume AdjustableBuilt-in Short, Overload and Overcurrent ProtectionUsed for Home, Office & Mobile/Vehicle ApplicationsCompatible with All of Todays Latest DevicesSmartphones, Tablets, Computers, Laptops, etc.Hassle-Free Connection & Easy SetupBluetooth Version: 2.1Bluetooth Network Name: Pyle SpeakerWireless Range: Up to 50+ ft.Power Output: 120 Watt (60 Watt x 2 @ 4Ohm)Class-T Digital Amp Circuit DesignFrequency Response: 20Hz - 20kHzRate Level Audio Input: 350mv/47k ORate Level Mic Input: 8mv/600 OTone Control (Bass/Treble): +/- 8dBMaster Channel Separation: 45dBSignal to Noise Ratio: 80dBSignal to Noise Master Channel: 71dBT.H.D.: 0.4%Power: DC 12 Volt /2AMaximum USB/SD Memory Support: 16 GBDimensions: 10.5" x 8.8" x 2.8"
Bluetooth Power Amplifier For Mini Blue Series Audio Amp with MP3/USB/SD Readers

MP3 Digital Audio File Playback

RCA Audio Inputs (L/R)

WARNING: This product can expose you to chemicals including BBP, which is known to the State of California to cause cancer and/or reproductive harm. For more information, go to www.P65Warnings.ca.gov.
Specifications
OHMs

: 4

Receiver & Amplifier Type

: Amplifier

Number of Channels

: 2

Power-Wattage

: 120

Audio Outputs

: Speaker

Brand

: Pyle

Customizable

: No

Weight

: 4.00 lbs. per Each