Quartet® Prestige® 2 Total Erase® Magnetic Whiteboard, 8' x 4', Aluminum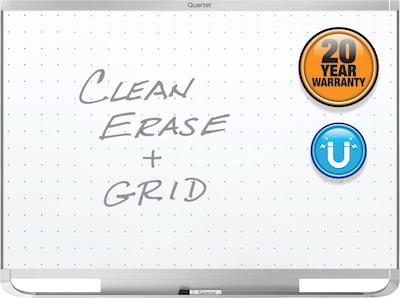 Description
Great erasability and durability in a magnetic whiteboard
Magnetic Total Erase® board with 20-year warranty offers a high level of durability to resist ghosting and staining over time, which typically occurs from frequent dry-erase writing. The magnetic feature provides the extra functionality of being able to hang papers on the whiteboard surface using magnets. Featuring a Quartet® Prestige® 2 frame, board has a professional appeal and can be paired with Quartet Prestige 2 Connects™ accessories to personalize its use for your needs.
Total Erase® magnetic whiteboard with 20-year warranty has a durable surface that resists ghosting and staining

8'W x 4'H

Silver aluminum frame compatible with Prestige 2 Connects™ accessories (sold separately)

Printed with a light grid pattern, only visible up close, to help keep writing aligned

Full-length accessory try, Quartet® dry-erase marker and mounting hardware included

Best suited for moderate use in spaces with regular traffic

Erases cleanly and will remain pristine with only occasional maintenance

Magnetic feature allows whiteboard to double as a magnetic bulletin board

Pass-through corner mounting ensures quick installation.

20-year warranty
Expand your brainstorming and presentation options with a board that defines productivity at its best. Perfect for executive offices and conference rooms.Total Erase® Surface with Writing Grid The durable, magnetic Total Erase® surface resists ghosting and staining to look new for years to come and is backed by a 20 year warranty. The board surface is also printed with a light grid pattern. Only visible at close range, the grid helps keep your writing aligned so it is easier for your audience to read and follow along.Double Functionality Delivers superior performance as both a writing board and magnetic bulletin board. Use dry-erase markers to brainstorm, leave messages for yourself or others, and sketch out your next great idea. Just as easily you can post an inspirational photo, reference printouts or hang a project timeline.Compatible with Prestige® 2 Connects™ Accessories Unique Prestige® 2 board frame is specifically designed to keep whiteboard accessories within easy reach. The frame has notches along the back to attach Connects™ accessories, no tools required. Marker caddy, flipchart extension arm and more snap directly onto the frame. Accessory tray is also included to store a Connects™ 2-in-1 eraser, cleaning wipes caddy and other handy items.Easy to Install Pass-through corner mounting ensures quick installation. The screws insert through the front so you can clearly see how the board will hang and place it accurately on the first try. Installation is simple, secure and flexible with both vertical and horizontal mounting options.
Specifications
Board Frame Finish

: Silver

Board Size (Approximate)

: Greater than 8' x 4'

Board Usage

: Moderate Use

Magnetic

: Yes

Surface Material

: Total Erase

Frame Color Family

: White

Frame Materials

: Aluminum

Brand

: Quartet

Weight

: 56.42 lbs. per Each
Customers also viewed
Quartet® Fusion Nano-Clean™ Magnetic Whiteboard, 8' x 4', Silver Aluminum Frame

When you buy

3

+

Quartet® Infinity Glass Magnetic Marker Board, 8' x 4', White, Frameless

When you buy

3

+

Quartet® Standard Whiteboard, 8' x 4', Silver Aluminum Frame

When you buy

3

+

MasterVision Magnetic Dry-Erase Grid Platinum Plus Planning Board, Silver Frame, 24Hx36"W

When you buy

3

+

Quartet® Fusion Nano-Clean™ Magnetic Whiteboard, 8' x 4', Black Aluminum Frame

When you buy

3

+

Prestige® 2 DuraMax® Porcelain Magnetic Whiteboard, 8' x 4', Aluminum Frame

When you buy

2

+

Quartet Infinity™ Glass Magnetic Marker Board, 4' x 3', Black, Frameless

When you buy

3

+

Quartet® Prestige® 2 Total Erase® Magnetic Whiteboard, 6' x 4', Aluminum

When you buy

3

+

Prestige® 2 DuraMax® Porcelain Magnetic Whiteboard, 8' x 4', Mahogany

When you buy

3

+

Prestige® 2 DuraMax® Porcelain Magnetic Whiteboard, 6' x 4', Aluminum Frame

When you buy

3

+

Steel Whiteboard; Blk Alum Frame, 8'x4'

When you buy

3

+

Quartet® Prestige® 2 Total Erase® Magnetic Whiteboard, 4' x 3', Aluminum

When you buy

3

+

Quartet® Premium DuraMax® Porcelain Magnetic Whiteboard, 8' x 4', Slvr Aluminum

When you buy

3

+

Quartet Infinity™ Glass Magnetic Marker Board, 4' x 3', White, Frameless

When you buy

3

+

Quartet® Infinity Glass Magnetic Marker Board, 6' x 4', White, Frameless

When you buy

3

+

Prestige® 2 DuraMax® Porcelain Magnetic Whiteboard, 4' x 3', Aluminum Frame

When you buy

3

+

Prestige® 2 DuraMax® Porcelain Magnetic Whiteboard, 4' x 3', Mahogany

When you buy

3

+
Accessories
Expo® Low-Odor Dry-Erase Starter Set

When you buy

6

+

3M™ Whiteboard Eraser

When you buy

8

+

Sanford® EXPO® DryErase Marker, Chisel Tip, Assorted, 12/Pack

When you buy

8

+

Quartet® BoardWipes™, Dry-Erase Cleaning Wipes, Non-Toxic, Low Odor, 50 Ct.

When you buy

3

+

Quartet® Whiteboard Cleaning Spray, 17 oz.

When you buy

6

+

Quartet® Magnetic Push Pins, High Power Magnets, Bright Colors, 20 Pack

When you buy

3

+

Quartet® EnduraGlide® Chisel Tip Dry-Erase Marker, 12 Pack, Black, Non-Toxic

When you buy

6

+

Quartet® EnduraGlide® Dry-Erase Markers, Chisel Tip, Assorted Colors, 4 Pack

When you buy

6

+

Quartet® EnduraGlide® Fine Tip Dry-Erase Marker, 4 Pack, Assorted, Non-Toxic

When you buy

6

+

Quartet® EnduraGlide® Chisel Tip Dry-Erase Marker, 12 Pack, Assorted Colors

When you buy

6

+

Quartet® EnduraGlide® Fine Tip Dry-Erase Marker, 12 Pack, Black, Non-Toxic

When you buy

6

+