Quill Brand® Extra-Wide Indexes- Dividers; Clear; 5-Tabs/Set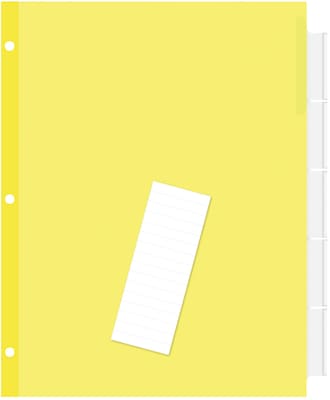 Description
Clear

5 tabs per set

Size: 9-1/4x11"

These side-cut tabs extend 1/2" past top loading sheet protectors

Contains 40% recycled post-consumer content

Mylar reinforced
Quill Brand Extra-Wide Indexes to Organize Binders
Keep your company's thee-ring binders from becoming a mess with Quill Brand extra-wide indexes. Divide documents into categories so they stay organized.
Binders full of documents can become difficult to navigate, but Quill Brand extra-wide indexes provide an effective organizational method. Instead of needing to flip through page after page until they find that elusive document, your employees can jump right to the category indicated on the tab. These easy-to-use indexes are made of 40 percent recycled materials, so you can feel good knowing they're easy on the environment as well.
Separate Documents Into Sections
Clean up your company's three-ring binders with these Quill indexes, which are simple to set up and provide a sturdy divider for any amount of documents. By adding labels to the side-cut tabs, you can create whatever categories you like, such as document date ranges or types of documents. Keeping binders organized helps everyone in your office save time searching for documents and projects a professional appearance.

Specifications
Recycled

: Yes

Brand

: Quill Brand

Weight

: 0.17 lbs. per Set
Customers also viewed
Quill Clear 8-Tabs/Set Extra-Wide Indexes

When you buy

48

+

Quill Asst. 5-Tabs/St Extra-Wide Indexes

When you buy

48

+

Staples® Insertable Dividers

When you buy

12

+

Asst. Colors 8-Tabs/St Extra-Wide Indexes

When you buy

48

+

Quill Brand® Standard Indexes

When you buy

48

+

Avery Big Tab Insertable Dividers, Buff Paper, 8 Clear Tabs, Gold-Reinforced Edge, 1 Set (11112)

When you buy

48

+

Quill Brand® Clear Indexes

When you buy

48

+

Quill Brand® Assorted-Color 8-Tab Index

When you buy

48

+

Avery Big Tab Insertable Dividers, Buff Paper, 8 Multicolor Tabs, Gold-Reinforced Edge, 1 Set (11111

When you buy

48

+

Quill Brand® 5-Tab Write-On Tabs

When you buy

24

+

Quill Assorted-Color 5-Tab Index

When you buy

48

+

Avery Big Tab Insertable Dividers, Buff Paper, 5 Clear Tabs, Gold-Reinforced Edge, 1 Set (11110)

When you buy

48

+

Quill Clear 5 Big Tab Indexes F/Printers

When you buy

48

+

Avery Big Tab Insertable Dividers, 5 Clear Tabs, Gold-Reinforced Edge, 1 Set (11122)

When you buy

48

+

Quill Clear 8 Big Tab Indexes F/Printers

When you buy

48

+

Quill Clear 5 Big Tab Indexes F/Printers

When you buy

48

+

Quill Brand® 8-Tab Write-On Tabs

When you buy

24

+

Quill Assorted 5 Big Tab Indexes F/Printers

When you buy

48

+