>

>

>

>

Edupress™ Reading Comprehension
Narrow Your Results
(7 Products)
Sort By:
Best Match

Best Match

Price:High-Low

Price:Low-High

Rating:High-Low

Rating:Low-High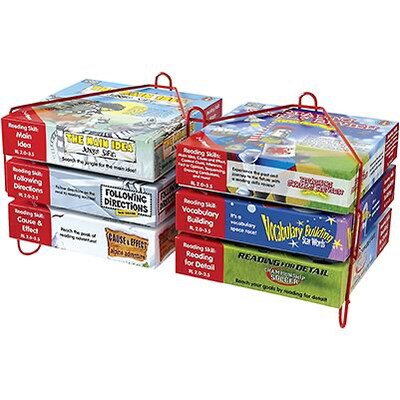 Comprehension at the Concrete Level—a series of games to build the first 3 levels of reading comprehension as identified by Bloom–knowledge, comprehension and application
Includes: The Main Idea, Reading for Detail, Following Directions, Vocabulary Building, Cause & Effect and Reading Skills Review
Comprehension at the Abstract Level—this series of games tackles thinking and reasoning skills in reading requiring implicit rather than explicit knowledge
Includes: Reading Between the Lines, Figurative Language, Sequence Builder, Logic & Reasoning, Drawing Conclusions and Fact or Opinion
Great for ELL
All sets include FREE game rack!
Small Parts. Not for children under 3 yrs.
SS,73479