Samsill® Earth's Choice 5-Inch Round 3-Ring View Binder, White (18907)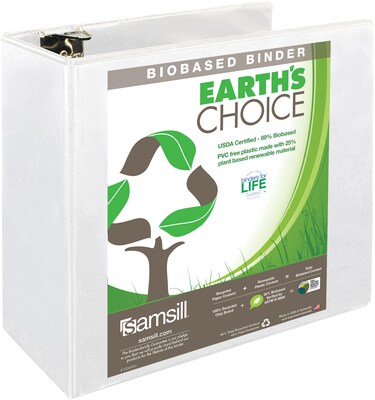 Description
Store documents in the Earth's Choice white round ring binder, which comes with an 850-sheet capacity for business and educational documents.
The Earth's Choice 5-inch round ring binder comes with 5-inch round rings capable of storing over 1000 sheets of paper, making it ideal for storing very large documents for school, university and for the office. It comes with two clear inside pockets to store loose papers, documents without punched holes and any items. The cover is constructed with environmentally polypropylene, making the Earth's Choice round ring view binder durable and easy to recycle.
Environmental Sustainability Solution: Composed of at least 69% bio-based material including environmentally friendly polypropylene cover made with 25% plant based renewable polyethylene. Also includes boards made with 100% recycled fiber

USDA Certified: USDA Certified Bio-based Product after undergoing ASTM D-6866 testing

Archival Safe: Made with PVC free and non-stick polypropylene/polyethylene, these binders are acid-free, extremely durable, and will not transfer ink or lift copy from material inserted in cover or placed inside

Easy Customization: Clear overlay with non-glare finish on front, back, and spine allows for complete customization of the binder with ease

Durable Storage & Organization Solution: Made with strong polypropylene/polyethylene and thick chipboard for durability and frequent daily use at home, school, and office

More Value Adding Features: Round rings mounted on back lid hold up to 900 sheets, allow pages to lay flat, reduce wear on punched pages and provide a clean looking spine. Extra storage for loose documents or unpunched pages with two clear inside pockets

Lifetime Product Guarantee: The durable construction of polypropylene and polyethylene covering tightly sealed onto thick, sturdy chipboard allows use for years to come and gives this view binder a lifetime product guarantee under the Binders for Life program
Environmentally Friendly
The Earth's Choice 5-inch view binder is made from 47 percent recycled materials, so it has less impact on the environment. The removable rings and chipboard are made entirely from 100 percent recycled materials, and they can be recycled when the binder has reached the end of its life.

Large Storage Capacity
Earth's Choice white round ring binder comes with 5-inch round rings that are capable of storing over 1000 sheets, making it ideal for storing large documents like manuals, transaction records and years of archives.

Customizable Non-Stick Cover
The Earth's Choice polypropylene view binder is completely customizable. The cover features a clear front, back and spine so the entire cover can be customized for business, school and university by labeling the cover and organizing it into relevant sections. The binder is also non-stick so it won't lift or stick documents making it ideal for frequent and multiple uses.

Specifications
Brand

: Earth's Choice

Customizable

: No

Weight

: 0.51 lbs. per Each