Sharp Printing Calculator (EL-1197PIII)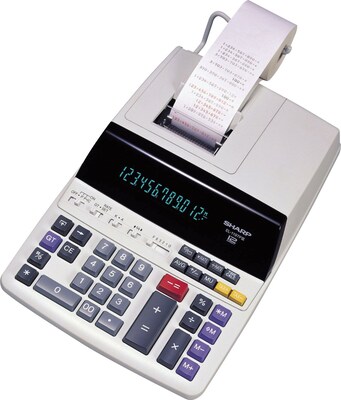 Quick Ship: 1-2 business day delivery
Description
Sharp EL-1197P Printing Calculator guards against office germs with Microban.
The Sharp EL-1197P Printing Calculator comes with built-in antimicrobial protection to prevent transmission of office germs, colds, and flu. The large, 12-character fluorescent display reduces eyestrain, and the fast printer produces numbers in two colors, to eliminate misreads. The calculator plugs into any standard outlet, never requiring batteries. Shortcut keys like the margin button, item-count function, and tax calculation make work faster and more accurate.
Screen displays up to 12 digits

4-key memory helps eliminate mistakes

Displays numbers in 14-millimeter-high characters, making results easy to read

Prints in 2 colors to eliminate misreads

Prints 4.5 lines per second for quick, clear documentation

Timesaving shortcut keys include backspace, double zero, +/- switch, grand total, and markup/down

Decimal function, cost/sell/margin, item count function, percent add on/discount, and tax calculation settings ensure consistent calculations

Adjustable rounding settings eliminate rounding errors

Time and date prints on every tape, making expense reports or bank deposits easy

Plugs into any standard outlet, eliminating the need for expensive batteries

Measures 8.62 x 12.87 inches and weighs 4.2 pounds

Microban eliminates germs

Sharp EL-1197P Printing Calculator guards against office germs with Microban.

Number of display digits: 12

Hi-speed ribbon printer

Power source: AC

Display notation: Numeric, display type: Fluorescent

Display angle: Fixed

Replacement ribbon/roller: DPS-R3027

Replacement roll paper: UNV-35720

Ribbon/roller printer: Ribbon

Printing color: Black and red

Decimal function, cost/sell/margin, item count function, percent add on/discount, tax calculation, time/date

Rounding settings: Up/off/down

Built-in antimicrobial protection with Microban® inhibits the growth of damaging bacteria, ideal for heavy-duty office use

Adds the grand total of several calculations, such as the total prices times units on an invoice, blue fluorescent display shows punctuation, displays and prints date and time

Weight: 4.2 lbs.
Sharp EL1197PIII Calculators Keep Accurate Financial Records

Sharp EL1197PIII calculators incorporate multiple distinct features that make these devices a useful tool to meet the accounting needs of your business. Different from pocket or scientific calculators, Sharp EL1197PIII calculators print calculations on a piece of tape that your team can easily remove and store for accurate records. Aside from the printing feature, the speed the device performs calculations and large color-coded buttons both help save time, which improves the efficiency and productivity of your business. These useful features make calculating taxes or optimizing a budget a seamless process.

Convenient Features Provide Accurate Calculations

With four-key memory, Sharp EL1197PIII calculators help eliminate input mistakes by storing numbers for easy recall, which is an ideal feature for forgetful employees. These calculators print in two colors to reduce misreads, and print the time and date on each piece of tape for clear documentation of addition and subtraction. Additional settings include adjustable rounding to reduce rounding errors, and tax calculation settings to keep reliable and consistent calculations when calculating figures for expenses. The large easy-to-read screen is highly visible for your colleagues with poor eyesight, and helps produce accurate calculations by displaying up to 12 digits to ensure your team enters the appropriate numbers or keys.

Save Time and Increase Productivity

Sharp EL11979lll calculators also feature several time-saving shortcut keys such as backspace, double zero and grand total to ensure calculations complete in as little time as possible. The quick 4.5-lines-per-second print speed is beneficial to keeping accurate records when entering calculations rapidly. With large color-coded buttons, these calculators reduce the amount of time spent searching for the right key, which increases your team's productivity by eliminating wasted time correcting errors.
Specifications
Number of Digits Displayed

: 12+

Printing Calculator Speed

: 4 - 5 Lines per Second

Printing Color Options

: Black and Red

Color Family

: White

True Color

: White

Brand

: Sharp

Quick Ship

: Yes

Customizable

: No

Weight

: 6.35 lbs. per Each