Splenda® Sweetener Packets, 400/Box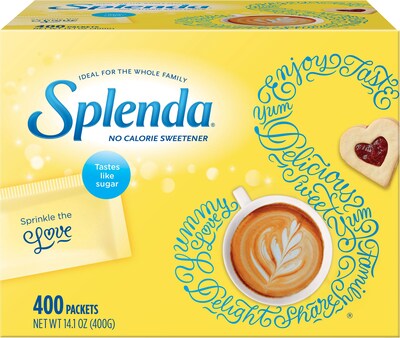 Description
Splenda Sweetener Packets- Avoid Extra Calories
Splenda® Sweetener packet is a sugar alternative with no calories/carbohydrates and ideal for home, restaurant or hotels. Sweetener packet contains granular powder in each packet that is easy to clean up, sold as 400 per box.
Granular

No calorie sweetener

400 individual packets per box

A sugar alternative with no calories and no carbohydrates

Be more productive and energized at work when you substitute Splenda sweetener packets for sugar. Splenda contains no calories, so it won't make you feel overloaded or sluggish after a meal.

Healthier Alternative
Sweetener packets provide the perfect touch of sugary taste without affecting your dental health or adding extra calories to your diet. In fact, Splenda is a zero-calorie product. Unlike traditional sugar, it doesn't contain the processed carbohydrates that make your energy levels flip-flop throughout the day.

Versatile Sweetener
Splenda satisfies your craving for sweetness so that you can get back to focusing on your business. Mix the sweetener into your cup of coffee or tea, or add some extra flavor to cereal, fruit, and pastries.

Hundreds of Packets
Every box includes 400 packets of Splenda, providing a healthy alternative for your entire office. Splenda has a higher sweetness level than traditional sugar, so you can actually use fewer packets to achieve the right flavor.
Specifications
Brand

: Splenda

Weight

: 1.00 lbs. per Box